Beginner Quilting Series Part 4
Choosing fabric for your first quilt project can be a paralyzing experience. The choices are vast, so where do you even start? The fear of spending all that time and money and then have a quilt with fabrics that don't really go can be daunting.
To help alleviate some of the fear out of choosing the "right" fabrics I have decided to make the Yellow Brick Road pattern by Atkinson Designs so you can follow along with me. First, just know that there is never just one "right" choice when choosing fabrics, however, there are some general guidelines to help make the process easier.
Quilt Pattern
The Yellow Brick Road Pattern is a good beginner pattern. The pattern is well written, easy to follow and can be made in several different sizes. I am choosing to make the lap size 57 x 75 inches and it is calling for 12 fat quarters for the body of the quilt and has yardage listed for borders, binding and backing.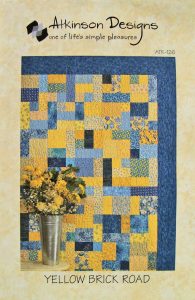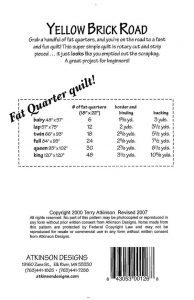 For starters, I will only pick the fabric for the body of the quilt. Once the blocks are completed and sewn together I will audition different fabrics for the border.
Why do you do this? Well, this may sound strange, but the quilt will tell you what colour the border should be.
Let me explain, my favourite colour is red! I love red and on my very first quilt, I picked a focus fabric with a red background. This quilt had sashing and when I finished my blocks, I took them to the fabric store. Once there I started auditioning all of the red fabrics I could find with my blocks. Nothing looked right. I really wanted red but it really wasn't working.
A shop staff member came up to ask if I needed help and on her suggestion, I started pulling some green fabric. Yup, the green worked! I couldn't deny it even though I really wanted a red sashing.
The quilt will tell you what colour the border or sashing's (if any) should be once the blocks are made.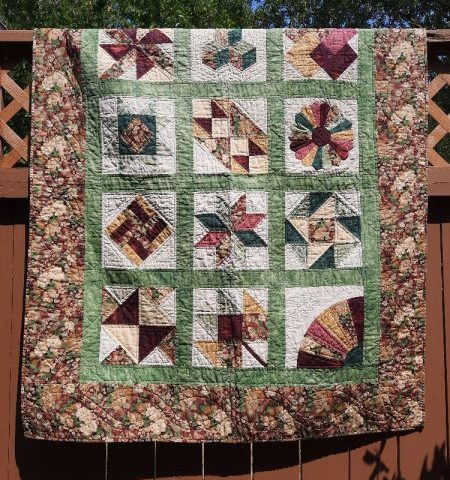 Choosing The Fabrics
Focus Fabric
The easiest way to start choosing fabrics for your quilt project is to start with, a focus fabric.
What is a focus fabric you might ask? It's a fabric that you love, maybe a bold floral or dramatic design of some sort. Something that speaks to you that you absolutely love.
For your first project, it's easiest to choose a focus fabric that has a lot of different colours in it. This will give you more to work with when choosing co-ordinating fabrics for your project.
Once you have that first fabric you can start building your fabric/colour palette from there.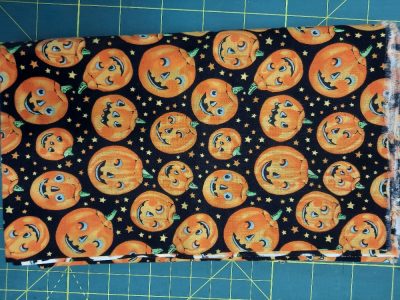 Fabric Colour
When choosing a Focus Fabric, try to pick a fabric that has something going on. In my selection, I decided to choose a theme fabric with some medium-sized pumpkins.
If you look closely you will notice that there are two main colours, orange and black as well as two supporting colours, yellow-orange and lime green.
For the Yellow Brick Road pattern try to stick to picking fabrics in two colours. If you try to pick colours in all four of the above colours, you will find that your quilt will start to look too busy.
For my quilt, I decided to choose fabrics in the orange and black range.
Value
Value refers to the lightness or darkness of a colour. Once you have made your colour choices, it's time to start picking fabrics in those colours.
To add interest to your colours remember to pick fabrics that are lighter in colour than your focus fabric.
For my quilt, my blacks ranged from grey to black and for my oranges, I chose oranges that were both lighter and darker than the orange in my focus fabric.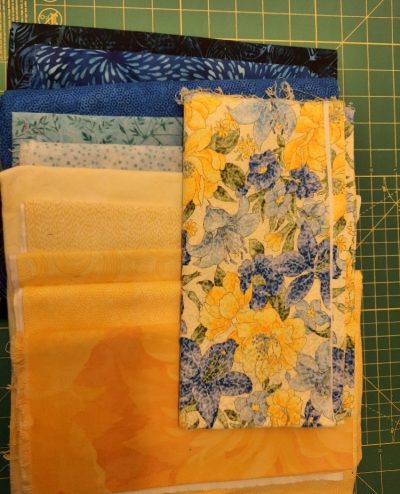 Scale
When choosing your fabrics for the Yellow Brick Road Pattern, try to include print fabrics that go with the focus fabric that you have chosen. Just remember to keep the scale smaller than what you have chosen.
For my Halloween themed quilt above, the pumpkins on the focus fabric aren't large but they cover the fabric densly. The orange moons on the black fabric are as large as the pumpkins however they are spaced further apart.
With the picture of the fabrics on the right, I went to my stash and choose a focus fabric. The main colours are yellow and blue and I then choose fabrics that supported that colour theme in colour values. This is a good example of colour value however, I don't have enough variety of prints in this fabric selection. For this to work well I would need to purchase some yellow fabrics that had more going on.
Some ideas for adding more interest to your fabric selection would be to add the following:
Small scale prints
Geometric Prints
Stripes
Polka Dots
Let's Talk Colour Intensity
Make sure the fabrics you choose all have the same colour Intensity.
Intensity is the brightness or dullness of a colour. Colour, as we see it on a colour wheel, is at full intensity (bright). When we mix it with grey, black, or white, it becomes dull.
If some fabrics are too "bright" they will stand out too much and your eye will be drawn to them first and things won't look balanced.
This works in reverse too, if you were using all bright modern fabrics and then threw in a civil war reproduction it would make the quilt look really odd.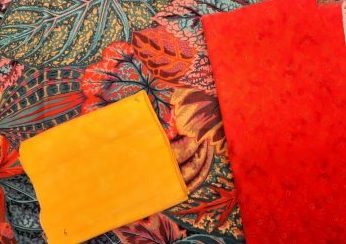 Fabric Shopping Tip
Once you have your focus fabric, then start pulling as many fabrics as you can find. Don't worry if they will be the right fabrics, if the colour is right and you like it, grab it!
Pull way more fabrics than you will need!
For example, the Yellow Brick Road pattern calls for 12 fat quarters so when choosing your fabrics choose 20 or more.
Lay them all out and start auditioning them one by one. Throw out anything that is too bright, or too dull or simply doesn't play nice with the other fabrics.
It's easier to start with way too many and pare down!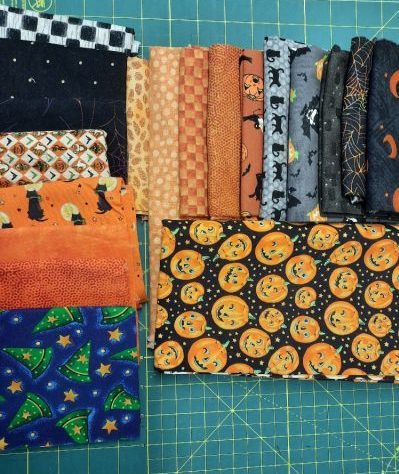 Theme Fabrics
A good option when choosing fabrics for your quilt is to go with a theme as I have done
Some ideas would be
Christmas
Halloween
Children's Themes
Novelty Prints
Or whatever else you can think of.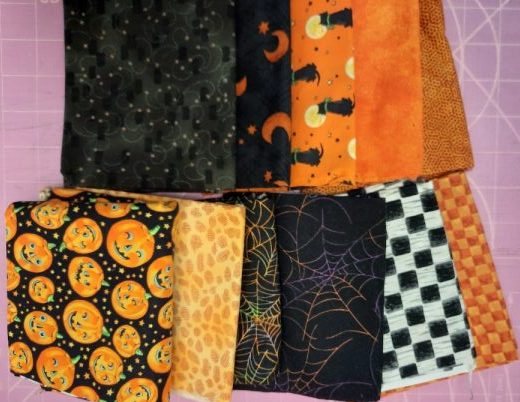 Next Steps
Leave a comment below with what pattern you might start with and show pictures of your fabric selection.
I can't wait to dive into the making of the quilts, especially the Halloween themed one.
Happy Quilting