Beginner Quilting Series Part 2
How to Choose a Beginner Quilt Pattern
Welcome back to the series! You have purchased your supplies and you're all excited to start that very first quilt project! You go to the quilt shop and Oh My! So many choices how do you choose that first beginner quilt pattern?
My Very First Quilt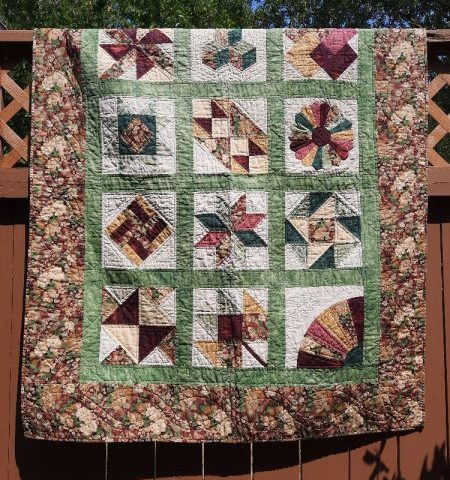 When I first started as a quilter I took a beginning quilt class at a quilt shop here in Victoria BC, Canada where I live. Instead of it being only a weekend or a "one-day" class, it was a series of weekly classes over about 8 weeks. The beginning quilt pattern we used was called a sampler quilt and the teacher took us from what we needed for basic supplies to showing us the pattern she was using, to explaining fabric all the way through to how to baste the finished top and how to hand quilt the top and how to bind the quilt. The class covered everything from start to finish.
The sampler quilt was a great way to start. We started off with simple blocks then moved to more advanced blocks, we learned a bit of everything from curved piecing to hand applique. I will be honest though, not sure I would want to tackle this type of quilt as my first quilt without an actual teacher guiding the way.
Beginner Quilt Classes
Taking a beginner quilt class like the one I was able to take with a hands-on teacher taking you through beginning blocks to more advanced was a real pleasure however these classes seem to be few and far between these days.
Beginner quilt classes provided at your local quilt store are always an option if you can find one. I tend to find though that the beginner quilt classes I tend to see advertised these days, is how to make a baby quilt! That's fine if you have a baby you want to make a quilt for. A basic baby quilt size is too small for anything but a baby (actually I find them too small for even babies but that's a whole other topic).
I will confess that I often find the beginner quilt patterns on offer for these classes boring and totally uninspiring. Not sure I would ever have become a quilter if that were the only suggestion for a "first" quilt.
Beginner Quilt Pattern Options
Thankfully there are many other options for your first project other than just a baby quilt.
Some suggestions are
Tablerunner
Wallhanging
Small Lap Quilt
Of course, if you are really ambitious you could go all the way up to a bed-sized quilt. I do know people who start with a queen-sized quilt as their first project. Not something I would recommend, but it can be done!
There are also so many really great tutorials online now both with blog posts and video tutorials that finding a first project that interests and excites you should be much easier than it may have been in the past.
Where to Find Beginner Quilt Patterns
You can find beginner quilt patterns in many places these days. Try looking online, in magazines, in books or purchase a pattern at your local quilt shop.
What to look for in a Beginning Quilt Pattern
Patterns that say Easy or Beginner are a good place to start. If the pattern doesn't specify the skill level, then choose something with simple shapes like squares and rectangles. You can always move up to triangles and other shapes once you have mastered the basics.
The more pieces in the block of the pattern chosen the more chances of the project becoming more frustrating than fun. The whole idea of this process is to enjoy what you are doing and make something fun and special for yourself. Try the more advanced stuff once you're hooked.
How to Read the Quilt Pattern
Once you have decided on a quilt pattern, I would recommend reading the quilt pattern all the way through first, maybe even several times.
Things you should find listed on a well-written pattern back are
The overall finished quilt size
The finished block size
A materials list (which should include backing, batting and binding requirements)
A cutting List
Instructions on how to sew the blocks together with diagrams
Instructions on how to assemble the quilt top with diagrams
Most quilt patterns will get you to the finished top or flimsy (what some call the quilt top) stage. Some patterns will have suggestions for how to quilt the quilt and some even for how to bind the quilt however these are usually rare.
Notice I have well written highlighted above. Not all quilt patterns are created equal hence my suggestion to read the pattern first. If you can't follow the pattern at all then don't assume it's because you are a beginner. It could be that it's just a really poorly written pattern. Believe me, I have made a few of those!
Examples of Information Found on the Back of Quilt Patterns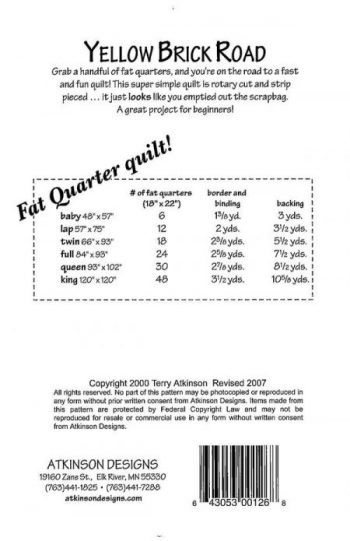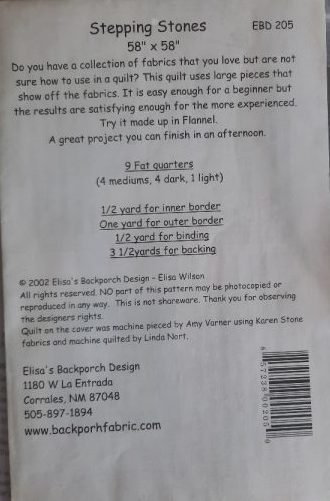 Examples of Good Beginner Quilt Patterns
There are a lot of great beginner quilt patterns you can find online and some of them could be free just google free beginner quilt patterns and go from there.
A pattern company that produces some great beginner pattern designs that I have used and like is Atkinson Designs.
Atkinson Designs have tested their patterns and have posted any corrections on their website so you can be assured the pattern is as accurate as possible. A bonus is that their patterns have multiple sizes listed so you can make the quilt the size you want. This particular company also has clear instructions with good diagrams. Easy to follow for a beginner quilter.
Listed below are three patterns to help you get started. This will give you some idea of what to look for in a pattern.
I am not affiliated with this pattern company in any way. Their patterns are very easy to read and use and I have used them myself in my early quilting journey. I also found they had a really well-designed website that is easy to navigate and some good video tutorials as well.
Next Steps
Have fun exploring your quilting beginner pattern options! Once you have chosen the pattern you want to use then comes the fun part! Choosing the fabrics!
See you soon!