Estimated reading time: 7 minutes
It's the end of Summer! How did that happen? Lately, my blog posts have been a lot of how-to posts, however this month I thought I would do a summer quilting recap. Some of my blog readers are armchair quilters, so this post is for them.  If you aren't into chatty-style "catch up" blog posts then skip this one and head over to the Tips and Tricks tab for some great quilting how-to content.
Travel
In June, I was finally able to use my Alaska Airlines credits that were set to expire and travel! I used them to visit my friend Karen who lives in Newport News, Virginia. It was my first time in Virginia, and I found it fascinating. So much history in that part of the USA. I need to go back and spend a lot more time there. Newport News is a naval town, and they have a fantastic Maritime Museum with trails that meander through a forest. Very different from the trees you find on hikes in the Pacific Northwest.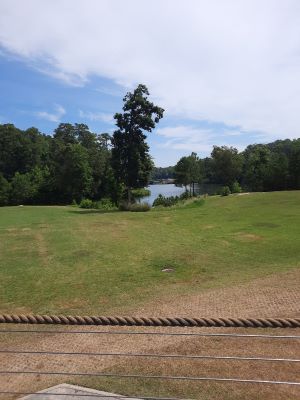 From there, I travelled on to Budapest Hungary to board a river cruise that meandered down the Danube River to the Black Sea, with the trip ending in Bucharest Romania. This was a fantastic trip and one I highly recommend. This trip had been on the books since 2019.
I took the trip with a company called Grand Circle Tours. They specialize in teaching trips. On this trip, we were able to learn about what it was like growing up under communism. One of the highlights of the trip was a home-hosted lunch in Croatia. Our host family told how they were displaced from their farm during the Serbia-Croatia war. I can't imagine what that must have been like for them.
Bucharest is a magnificent city which is something I hadn't expected. Not sure what I expected but defiantly worth a visit if you ever get the chance. It was HOT though the temperature hit 101F in Bucharest while we were there so I would recommend going in May when it may be a bit cooler.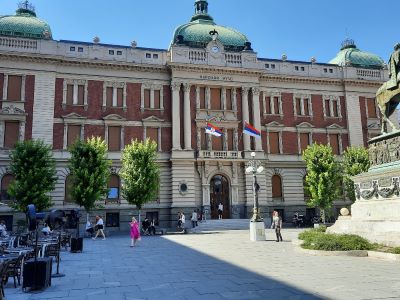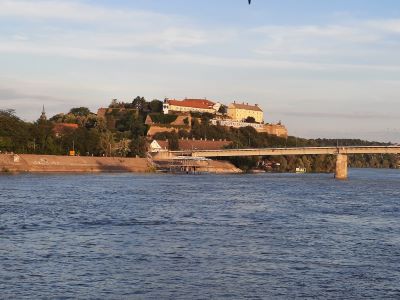 Summer Quilting Recap Projects
Rock Candy Table Runner
This summer I made it a point to squeeze in some quilting for myself.
I finished quilting a table topper, as a gift that will be mailed away shortly. The pattern is Rock Candy by Jaybird Quilts.
I have made a few of these table toppers now. The diamonds were cut from leftover fabric pieces from when I made the Jaybird Quilts Gravity pattern.
I still have a big bag of diamonds so I guess I will need to make more of these table toppers unless I can come up with a different pattern. Something to look into.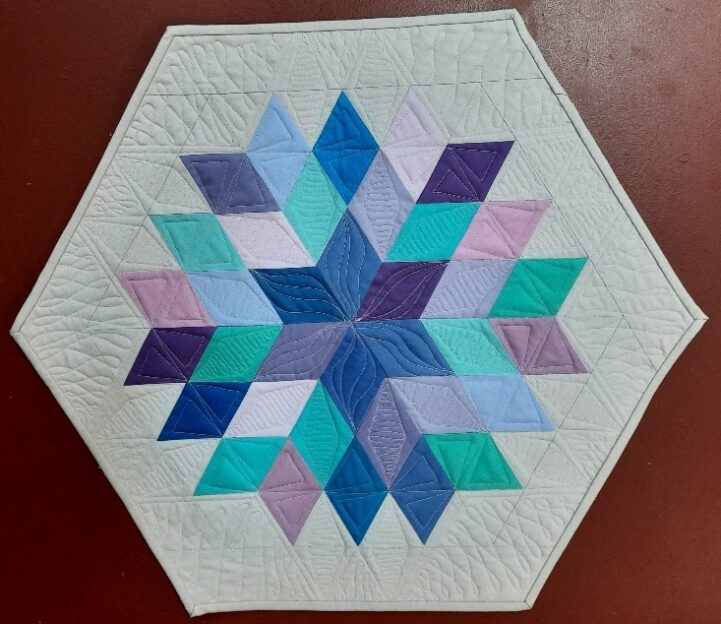 Baby Quilt
I also finished a baby quilt. Don't you love the descriptive name? I couldn't come up with anything better so baby quilt it is.
This quilt is basically my own pattern. I take inspiration from other patterns I see and then adapt them to my needs. In this case. It was a way to use up some scraps and one lonely piece of flannel I had stashed away. I really wanted the flannel gone so designed the quilt around the size of the flannel to be used for the backing. In hindsight, I could have made the quilt a bit bigger and pieced the backing, but I didn't. So now I have a much smaller piece of flannel left over which I will never use so that will be given away. Any suggestions on names? Although it's to be donated to my church so not sure it really needs a name.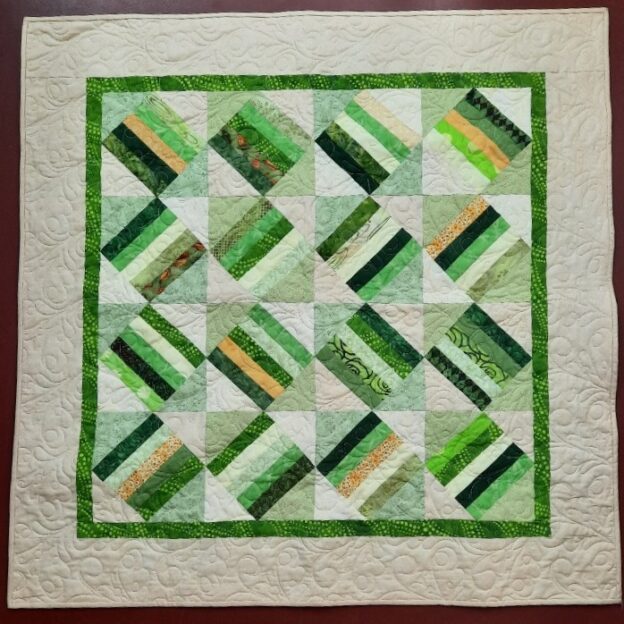 Attic Window Quilts
Years ago I purchased a sea life panel in a small quilt shop in Astoria Oregon. I had always wanted to make this into an Attic Window quilt and had kept the free pattern that came with the panel. I had not purchased enough yardage to make the pattern so decided to figure out how to design one myself.
For those interested, I have written a blog post on how to design an Attic Window quilt.
which you can find here. If you are interested in making your own Attic Window quilt, I will also be teaching a hands-on workshop on how to design an Attic Window quilt on Sat Sept 24 and the details can be found HERE.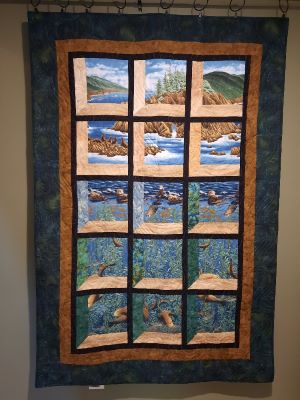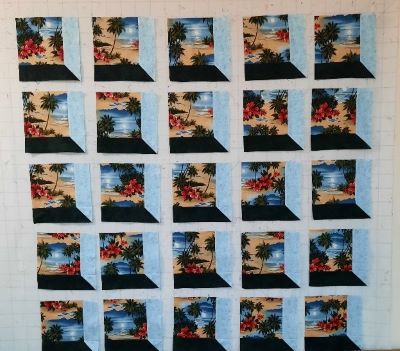 Being Koi
I fell in love with a pattern in Quiltmaker Jan/Feb 2006 magazine. Yes, you read that right, 2006. I hadn't been quilting for very long and so started collecting Asian fabrics to make the quilt. I ended up collecting WAY more fabrics than I needed and of course, the quilt never got made.
One day cleaning up I found the magazine with a tab on the pattern so decided that I just needed to go for it. The top is completed and waiting to be quilted (as are 3 other tops). The pattern is basic and easy except for the fabrics extending out to the border.
I think I put this off because I could never figure out how to do this the instructions were horrific! I now have enough knowledge behind me to do things myself so did it my own way including replacing the tiny inner border with a flange. It was called a one-weekend wonder, well maybe if you had better instructions.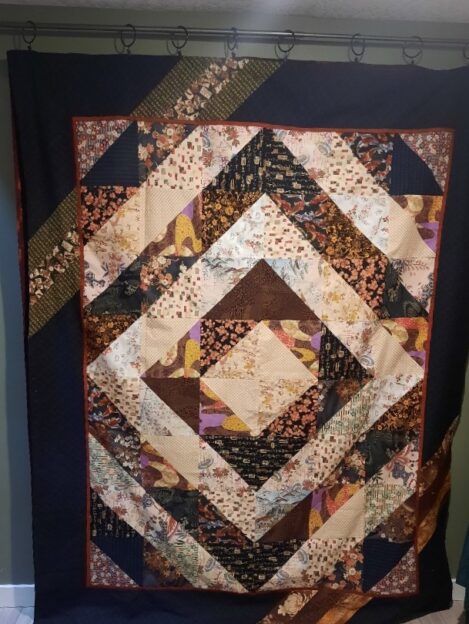 How Was Your Summer?
So that's my summer quilting recap. How about you? For those of you that are armchair quilters have you done any travelling now that things have opened up?
For the quilter what projects are you working on? Have you had a project that you have always wanted to make but keep putting off?
Let me know in the comments below!
Happy Fall!