What's Going On
The last few days have been pouring with rain and I am so happy to be working inside and not having to leave the house. Cocoa doesn't get a walk of course; however, he really doesn't mind as he HATES the rain and will do anything to avoid getting wet. Chihuahuas are not water dogs, that's for sure.
Today has dawned sunny though so hopefully we will get that walk in today if the weather holds.
Design Wall Update
I have been busy with client quilts these days so my own projects have been languishing. The Remembrance Day Poppy Quilt is still on the design wall, you think I would have been finished this by now!
The centre is finished and has been for several weeks now (I showed a picture of it on the last blog. I started off so excited with this project however I will admit now to feeling a little bored with it and really want to move onto other things.
I won't until this project is at least to a flimsy stage and ready to quilt. I really need to get some of these projects just finished! Do you ever feel like that?
The other project on the design wall is a small commission quilt that I am working on. It's a McKenna Ryan art quilt piece that will be a Christmas Gift. I love this quilt so much I may have to make one for myself. You can see a picture of it at the top of this page.
What is your Quilt's Destiny?
In the last blog post, I talked about what options there were when you finally finished piecing that quilt top. Today I am going to go over some design options to use for quilting your tops whether you are quilting them yourself on your domestic home sewing machine or whether you are taking them to a longarm quilter.
Your Quilt's Destiny
I read a book awhile ago, not sure if you can even get it now, called Machine Quilting Solutions by Christine Maraccini. In this book, she went into detail about how to analyze your quilt top before quilting it. I found this to be a really useful concept and have used a lot of her principles in my decisions about how a quilt top should be quilted and what designs may look best on the top.
She calls it "decoding" the quilt.
The first question that is asked is "What is your Quilt's Destiny"?
It is important to consider how the quilt is going to be used as well as who the recipient of the quilt is going to be. For example, if the quilt is to be gifted to a child you aren't going to want to spend a whole lot of time and/or money on the quilting of it.
In her book, she broke out the quilt destiny into three different categories
The Dragger
The Keepsake
The Showstopper
The Dragger: A quilt that is going to be "dragged" around, loved, used and washed often.
The Keepsake: This type of quilt is special and may be a gift to someone for a special occasion, special birthday, anniversary or someone special. This quilt may be displayed on a wall or even on a bed. It may get some washing but not a lot.
The Showstopper: This would be the quilt you would be entering into a quilt show or maybe a prized heirloom that you want really fancy custom quilting on. This type of quilt will be hung on a wall, it certainly won't be (or shouldn't be) something the cat would use to nap on.
Destiny Quilting Decisions
Once you have determined what your quilt tops destiny is, now you can start to plan out what designs you want to do for your quilt top.
The Dragger
The best quilting for this type of quilt is an all-over edge to edge pattern. This can be achieved by either quilting an all-over design on either a domestic home sewing machine or a long arm machine. If you are using a long arm machine you can also take advantage of using what are called pantographs.
The eye-spy quilt here is a really good example of a "dragger" quilt. Its purpose is for a child to use it and love it. The many busy prints in the quilt would make any quilting design hard to see so spending extra time doing custom quilting on this type of quilt wouldn't really make sense.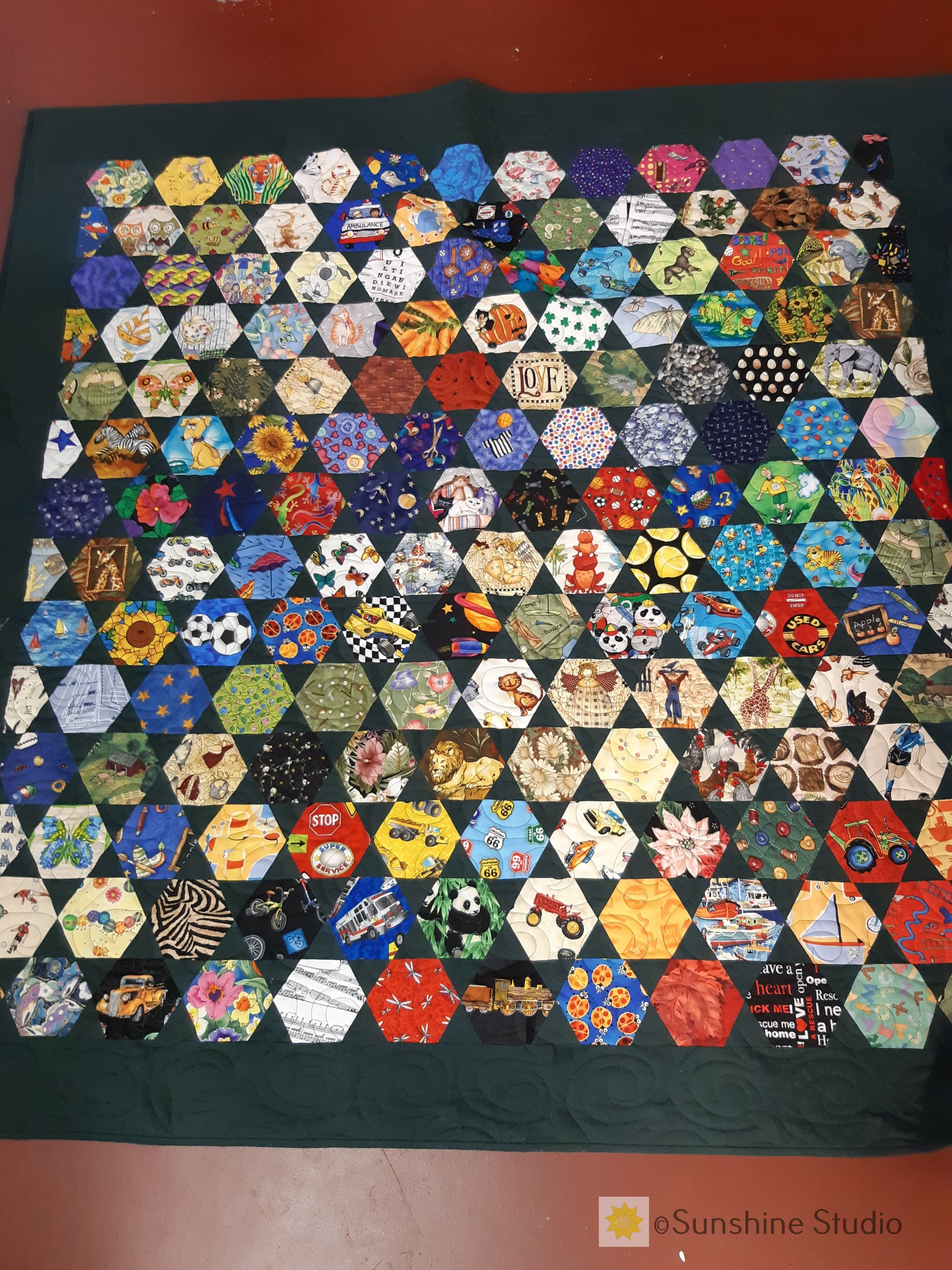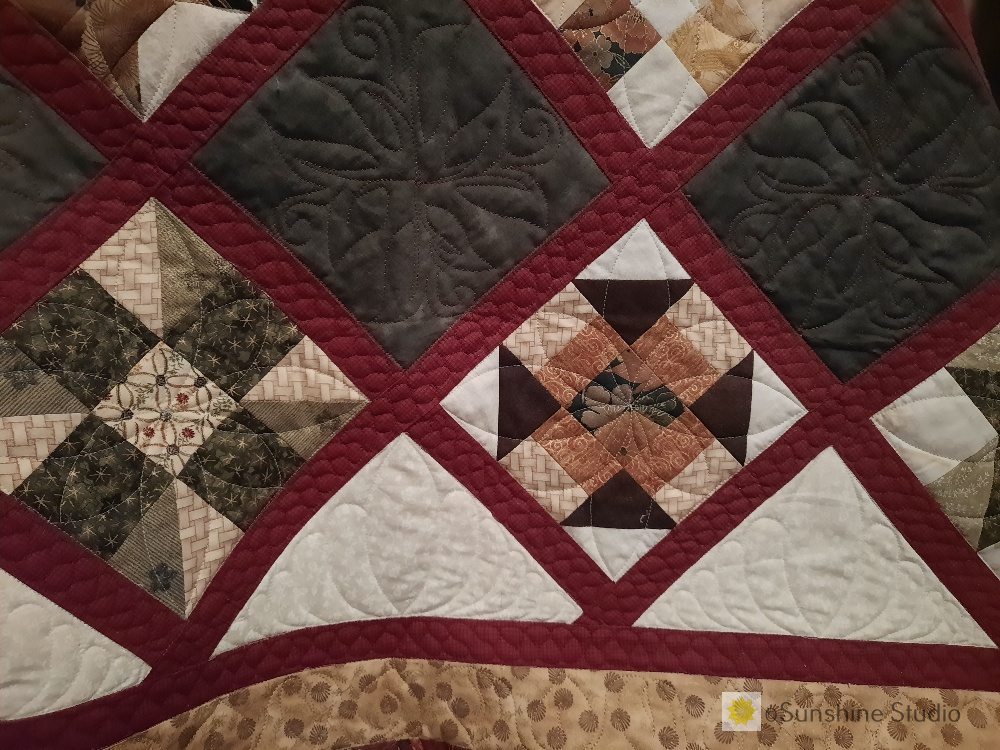 The Keepsake
This type of quilt is special, however, you may not want to spend hours and hours quilting it. For this type of quilt, you may want to quilt something special in the quilt blocks themselves with a different design, such as feathers or arcs in the borders. This type of quilting is also referred to as moderate custom quilting.
Other Factors to Consider in Your Quilt Design Choice
Some other factors that might come into play with what type of quilting you want to do on the quilt is time or if you are taking the quilt to be professional long arm quilter it may even be money.
Most all-over quilting designs (but not all it depends on how dense the design is) are a lot faster to quilt than doing even moderate custom quilting especially if there is stitch in the ditch work to be done on the quilt.
It may be that the quilt falls under the Keepsake category however you need the quilt done quickly or as mentioned above price may be a consideration, in that case choosing an all-over or pantograph design may be the way to go as all-over quilting is generally (although not always) more cost effective. Of course, If you are quilting the quilt yourself cost may not be an issue and it would just be down to the time factor.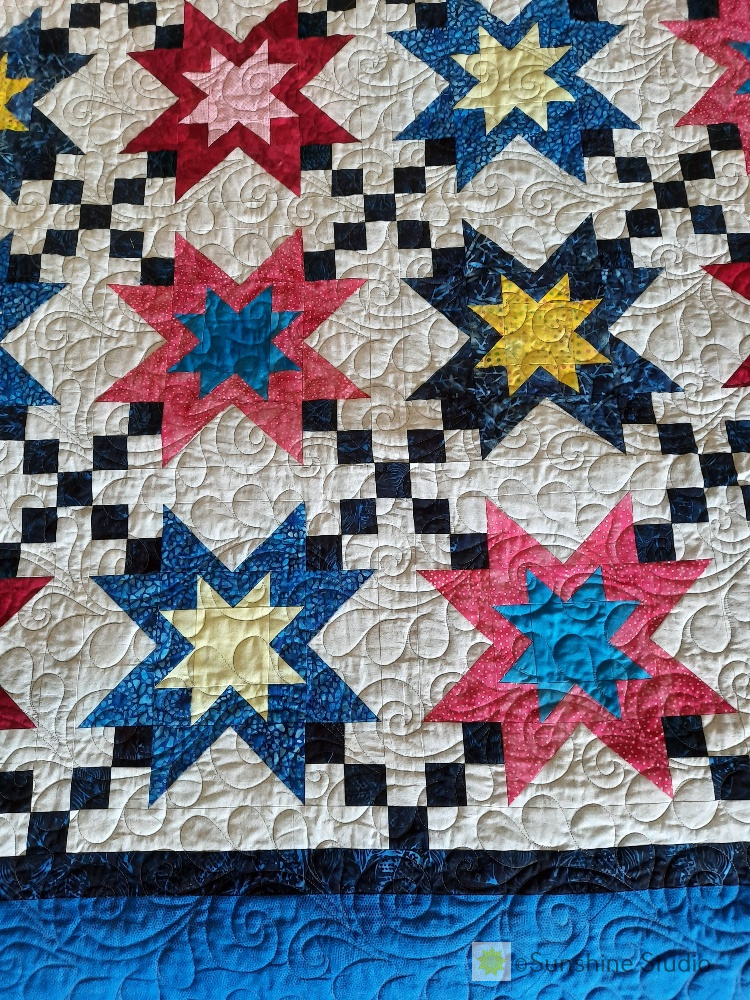 An example of the above is a quilt that I just finished for my church raffle. The quilt pattern is Summer Stars and it is a free pattern on the Robert Kaufman web site. Just a side note here if you do want to make this matter please read the pattern carefully as there are at least 3 errors in the pattern.
The quilt could fall into either the "dragger" or the "keepsake" category. The quilt top design is one that would have let itself to having some moderate custom quilting on it, however, due to time constraints and the fact that I didn't know the ultimate destination for this quilt I decided to quilt this with a really nice all-over pantograph.
The quilting compliments the top beautifully and it won't matter if the quilt ends up being a "dragger".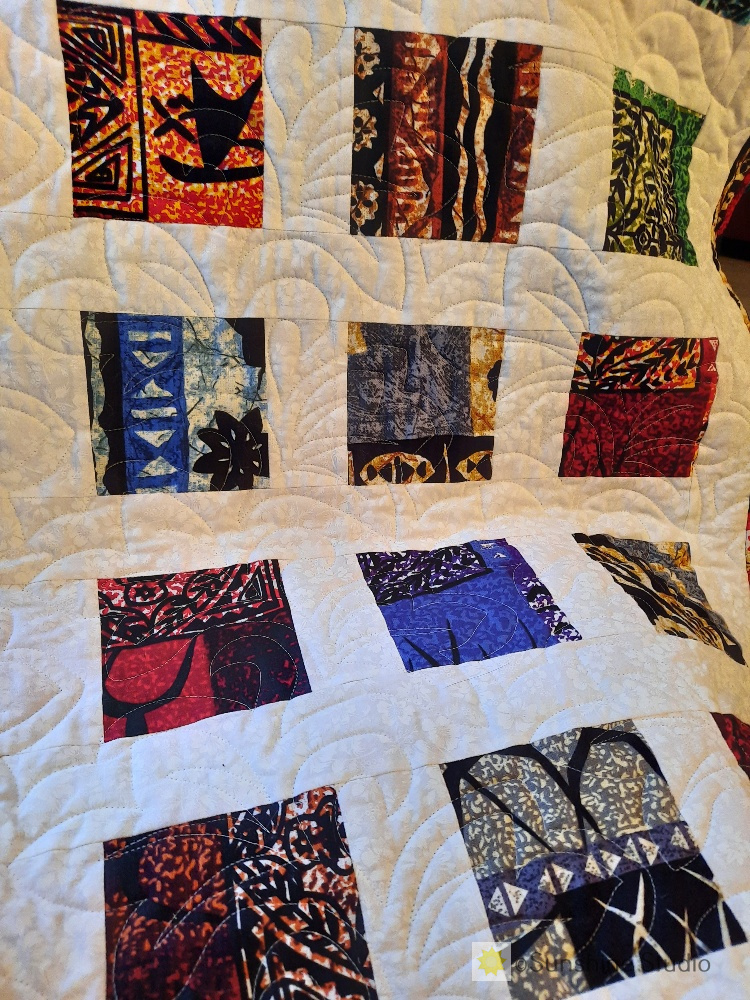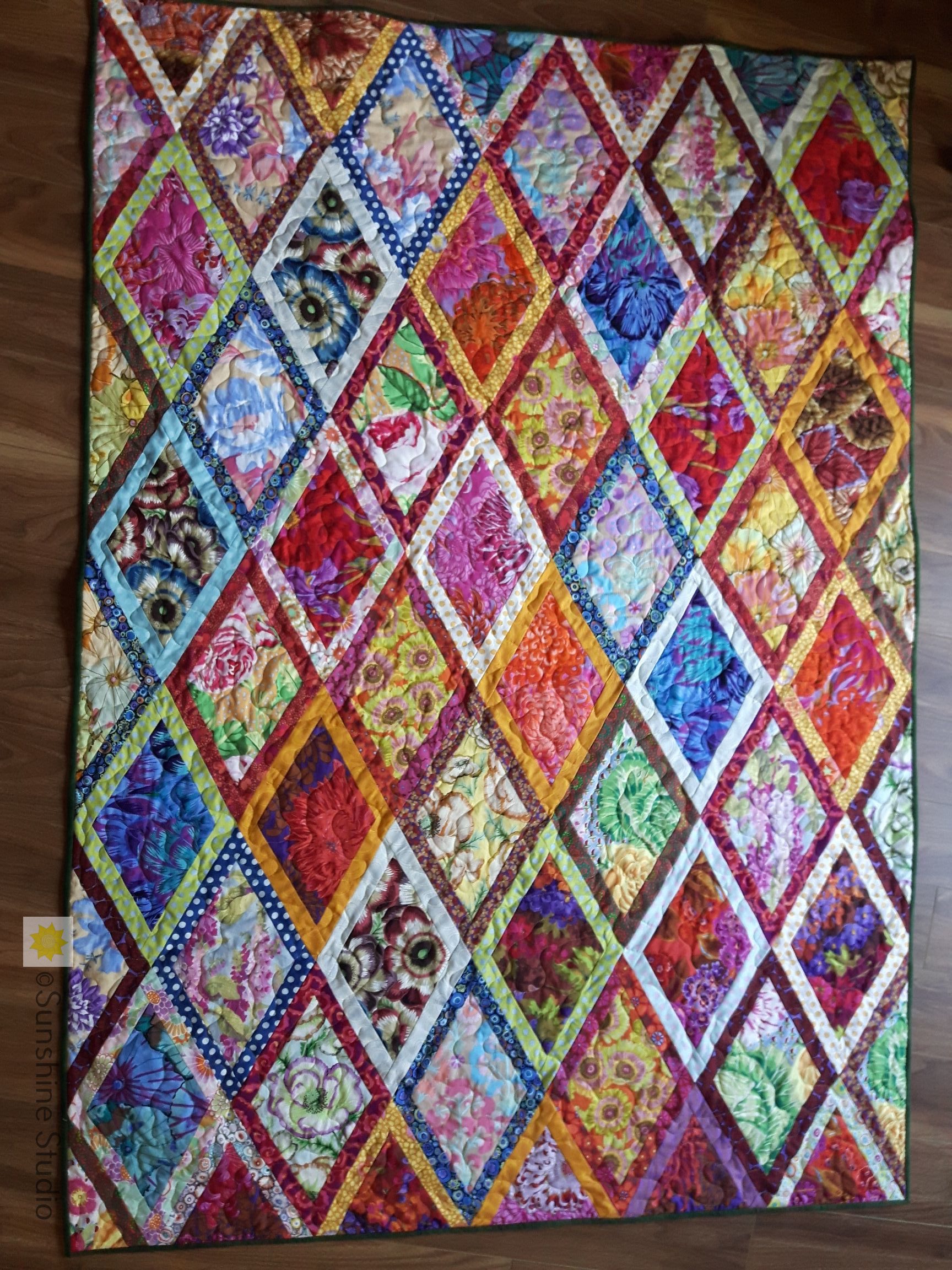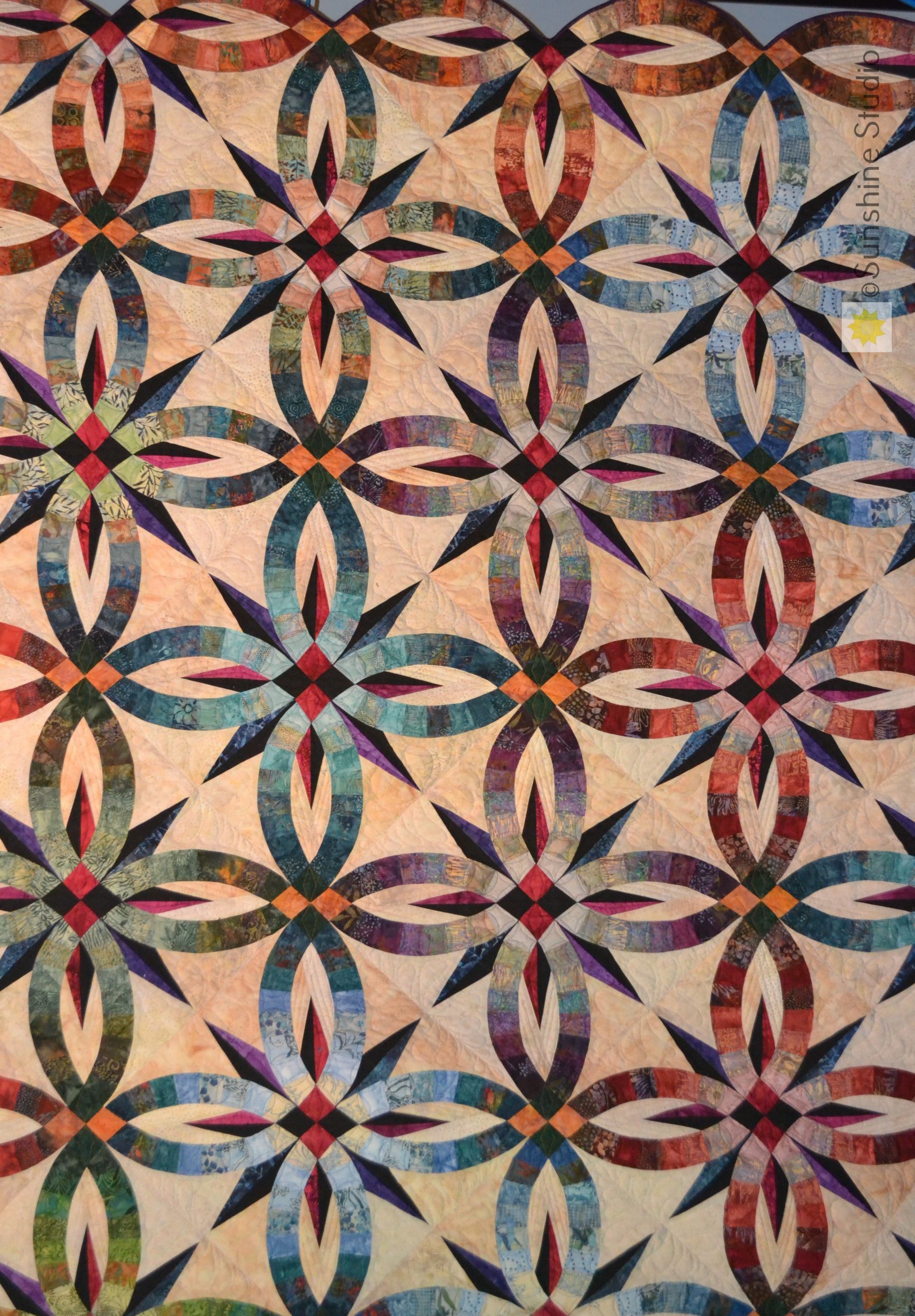 Another example of choosing an all-over design rather than moderate custom quilting is the Hawaiian Bark Cloth quilt that I made for myself (far left). This quilt brings back great memories, but the design of the quilt didn't really lend itself for a lot of custom quilting so instead, I chose a nice all-over pantograph called Tropical which complemented the quilt beautifully.
The middle Kaffe Fasset Diamond quilt would have been too busy for any custom quilting to show. I could have used a pantograph here but instead, choose just a simple all-over meander.
For the last quilt, the Bali Wedding Ring Quilt, this is a much more intricate quilt and lends itself beautifully to be custom quilted. Here I chose some moderate custom quilting of feathers in the open spaces as they show up beautifully there.
Final Thoughts
In the end, the final decision of whether you want an all-over quilt design, some moderate custom quilting or the quilt "quilted to death" may simply come down to your preference and what you think looks nice. It's your quilt after all.
Hopefully the above gives you some insight into the different types of quilting designs and ways to determine how you want the quilt to be quilted.
Keep on Quilting!