Fabric Buying Tips
"Quilting on a budget", how do you react to that phrase? Do you say um right no way quilting is just an expensive hobby and forget the budget? Or do you come up with creative ways to enjoy your hobby even with prices going up everywhere?
I'm here to tell you there are ways to save money even though quilting can be an expensive hobby.
Sew Your Stash
The first quilting on a budget tip is to sew your stash!
If you have a quilting stash (and I realize if you are starting out, you may not) then use it. I mean that's why we collected the fabric in the first place right? Not just to pet it and look at it (ok well there is always that as well).
You may not be able to find all the colours you want in the stash, but you may also surprise yourself. I have made whole quilts from my stash with just having to go to the quilt store to purchase yardage for the border.
If you really want to get creative, you could probably piece the border from your stash as well. Of course, this all depends on the size of your stash and your yardage. For me the pieces in my stash are generally a 1/2 yard to maybe a yard so usually not enough for a border.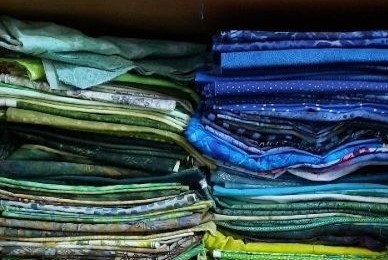 Tips for Building Your Stash on a Budget
Ok, you may be saying right now, while that's all fine and good but I'm new at this quilting hobby and I don't have a stash. Here are some tips to start collecting a stash without breaking the bank when you are quilting on a budget.
Facebook Marketplace
Check out listings on Facebook Marketplace for fabric sales. People downsize for many different reasons and some like me have been collecting fabric for many years and don't always get around to using it. (I would need another 4 lifetimes or more to use mine). When it's time to move to a smaller place for whatever reason, many people are faced with what to do with their fabric collection.
This fabric may be older, but most fabric collectors store their fabric in storage bins so generally, it should still be in good condition. If you're unsure, then just check the fabric pieces before you purchase them.
This fabric would be great to use in scrap quilts. If the pieces are larger, you can piece them for backings as well.
Estate or Yard Sales
Another great option would be Estate or Yard Sales in your local area.
As with above check the fabric first to make sure it's in good condition. Even if the fabric isn't totally to your taste, when cut up for scrap quilts or used as backings it will work great and stretch your fabric budget.
Sale "Rack" Fabric
Instead of purchasing 4 to 5 metres of that expensive yardage that exactly matches the fabric in the quilt top, check the sale rack (or sale tab online) to see if there is a fabric that would work with the theme of the quilt top without matching it exactly.
For example, say the quilt top is pink floral of a certain line, can you find a matching fabric that may have the same pinks in it or maybe you use a contrasting colour that still has the same "feel" as the quilt top?
I try to do this as often as I can and have saved a LOT of money doing this. Yes, you will have to piece the back but depending on how much money you save, spending the extra hour or so piecing the back just might be worth it. Anything to help make that quilting budget go further.
Quilt Shop Sale Days
You have this quilt pattern that you really want to make. It calls for a certain amount of yardage. You have checked your stash and you just don't have the colours or amounts you are looking for.
Does your local quilt shop have a sale day? One store where I live has a big sale on the last Saturday of every month. To save money, wait until the sale day and purchase the fabric then.
Subscribe to your favourite quilt stores newsletter, both your local ones and online to find out when the "sales" are happening.
Purchase More Fabric than you Need
When purchasing fabric on sale, purchase ¼ to ½ yard more fabric than you need so you can put the extra fabric back into your stash to use for other projects.
Another idea for this extra fabric is to use it to piece the quilt back as well.
Bonus Tip
SHOPPING TIP FOR LOCAL QUILT SHOP
Generally, sales days are busy so if you want to spend time auditioning fabrics for your pattern go on a non-sale day.
Figure out the fabrics you want to purchase and take a picture of the selvedge of the fabric with your phone (if you have one) and also the bolt itself.
Then on the sale day, you can simply go and pull the fabric bolts you took pictures of a few days before (don't leave it too long between when you do this and sale day though you don't want your fabric to be sold out).
Head over to the cutting table line and you will be out of the store in no time!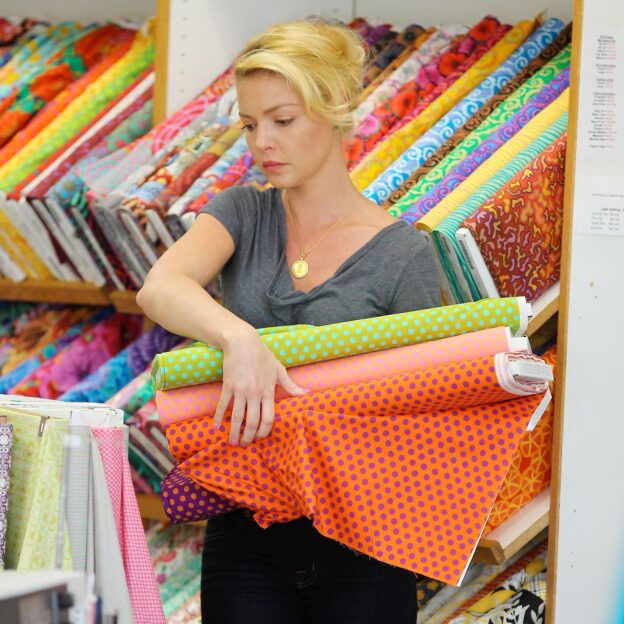 More Tips for Stretching those Quilting Dollars
Piecing the Quilt Back
I have mentioned a few times about piecing your quilt back instead of buying dedicated yardage for the quilt back. This really can save you money especially if you have a fabric stash already.
Check out more info on piecing quilt backs here!
If you have a fabric stash and you need 4 yards/metres for a quilt back, see if you can find larger pieces that you may already have in your stash, that may coordinate with the quilt top and piece them together.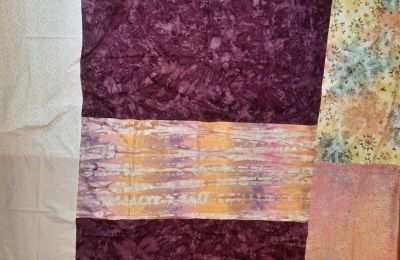 Using Multiple Background Fabrics
This tip is geared more to quilters who have a quilting stash and want to save money by not purchasing additional yardage.
If the quilt pattern you wish to use calls for 3 yards of one background fabric why not break it up into 3 1-yard pieces or 6 1/2 yard pieces? You may not have 3 yards of one cream or white background fabric in your stash however, you may have several pieces of white or off-white that would work well together.
Personally, I love doing this and find it makes a much more interesting vibrant and interesting quilt.
Use Those Scraps
To really stretch that quilting budget remember to use ALL of your fabric. Let's face it you paid for it why not use it all?
When you are finished cutting your fabric for a project, don't just throw the leftover scraps away unless they are teeny tiny! I have been known to go through the garbage at a quilting retreat to pick out fabric that others have thrown away. At the end of the retreat, I usually have enough scraps gathered to make an entire lap-sized scrap quilt.
That's a lot of money being thrown in the garbage, especially these days. Scraps can be cut down to manageable sizes like squares and strips.
I usually cut my scraps into 1.5-, 2- and 2.5-inch squares and do the same with longer pieces cutting them into strips. These sizes are great for scrap quilts
Edyta Sitar even uses 1.25-inch strips for her scrap log cabin quilts (not sure if I want to go that small but hey).
Final Thoughts
Do you use any of these quilting budget tips yourself? Do you have any I haven't listed? Leave a comment below!
Happy Quilting!