The quilt top is done, yay! Now to make the quilt backing but wait, now the dilemma awaits! To piece or not to piece that quilt back.
Quilt Backing Definition and Options
Quilt backing is the bottom layer of the quilt sandwich, a three-layer packet made up of the quilt top, batting, and backing.
There are several ways to create this bottom layer
Use a wide backing fabric, these can also come in different types

Wide Quilting Cotton

Wide Cotton Flannel

Use several metres of one or two fabrics, that either matches or contrasts with the quilt top and piece them together to the size required
Piece the backing using different fabrics you may already have in your stash (stash busting). This can either match or contrast with the quilt top
Piece the back using left over blocks from the front and complete the rest of the back with 1 additional fabric as in number 2 or other fabrics from your stash as in number 3.
Other options you may want to consider
Bed sheets
Fireside Fabric

Fireside also known as "adult minky/cuddle" is a velvety soft, 100% polyester fabric from Moda. It's a great backing for any quilt if you are looking for extra warmth and softness. Fabric width is usually around 60″.

Minky Fabric

Here is a link for more info on this fabric.
Wide Backings
Wide Backings are 108″ wide. These are perfect when you want to back a queen or king-sized bed quilt.
There are 3 types of Wide backings
Quilting Cotton with a good thread count generally higher priced
Lower Price Quilting Cotton, usually with a lower thread count and can feel rough to the touch.
Cotton Flannel (defiantly cozier than option 2)
Some quilt stores will rip wide quilt backings instead of cutting them. These backings are so wide it is hard to get the cuts straight if using a rotary cutter or scissors.
Learn more about ripping fabric here.
Tips for Wide Backings
Some tips for using these wide backings whether you are quilting the quilt yourself or taking it to a long arm quilter
Don't leave the quilt backing at 108" wide if the quilt you are quilting is 60" wide. That is a lot of extra fabric that doesn't need to be there. This is true if you are quilting the quilt yourself or taking it to someone to quilt for you. If the quilt top is 60" wide you will need 66 or 68 inches of backing fabric depending on the needs of your long arm quilter. Cut the extra off and add it to your fabric stash!
Make sure the fabric has a straight edge. Don't just bring it home from the quilt shop without checking that everything is straight especially if you are taking your quilt to be long armed!
If the fabric feels rough to the touch consider prewashing it first.
Pieced Quilt Backs from one or two Fabrics
Most lap quilts the backing may be seen or felt often. For these quilts, you may decide to use fabrics that match the fabrics used in the quilt top so purchase the fabric yardage that is recommended on the quilt pattern.
Or, like me, you may keep an eye out for fabric that is on sale that is neutral enough to go with many things and purchase several yards at a time and add it to your quilting stash to be used just for backings.
Sometimes, I may not have enough of one yardage for a complete back. In that case, I can use the full width of one fabric and add a smaller column down the side of the second fabric.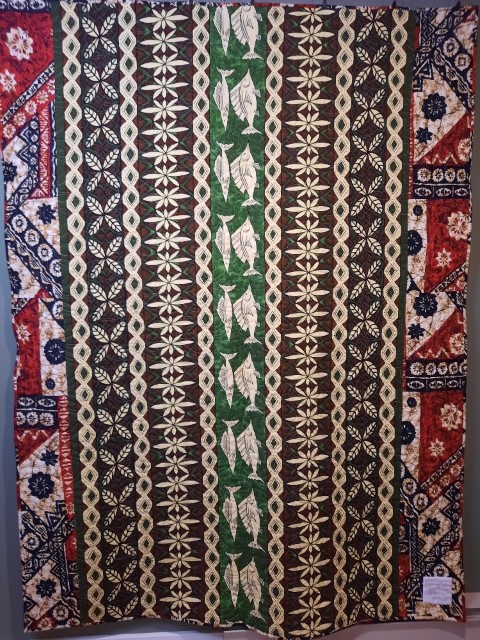 Tips for Simple Pieced Backs
Remove the selvages – Leaving the selvages on can cause the back to pucker at that point.
Make sure to measure and pin the pieces together
Sew with a ½" seam allowance
Press the seams open
Make sure all ends are even (not one side 1" longer than the other) this is especially important if you are sending your quilt out to be long-armed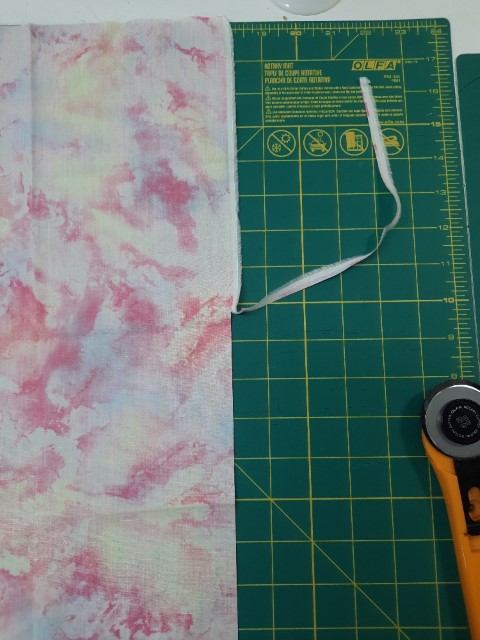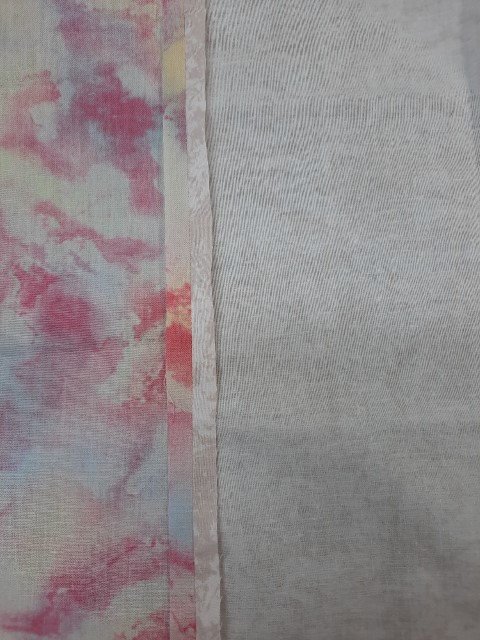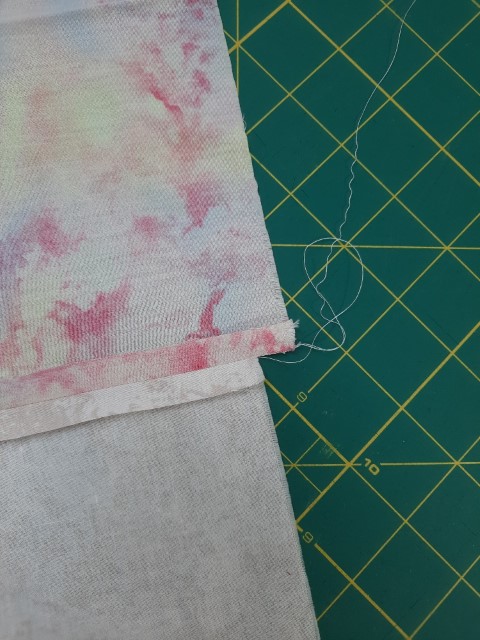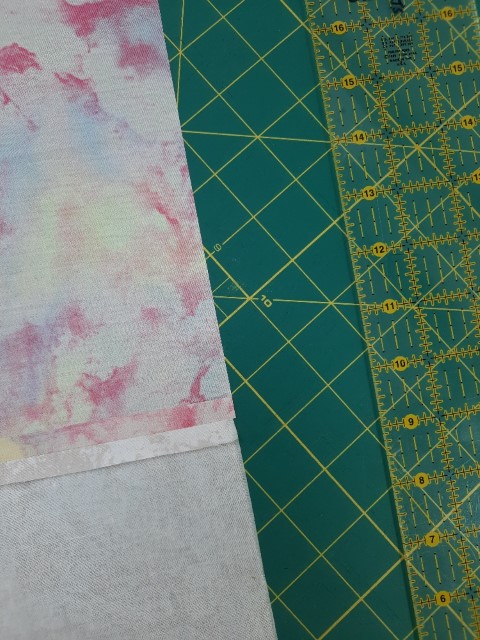 Stash Busting Backs
Do you have a large stash that has been sitting around for a while? Piecing together a quilt back is a good way of using some of those yard and half yard pieces you may have sitting around.
Tips for Stash Busting Backs
Remove the selvages – Leaving the selvages on can cause the back to pucker at that point.
Make sure to measure and pin the pieces together
Sew with a ½" seam allowance
Press the seams open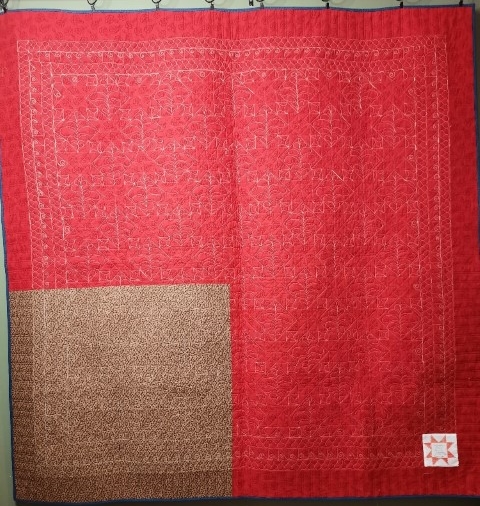 For another great idea check out this Midnight Quilter Video
Quilt Backs with leftover Blocks
Some quilt patterns call for making more quilt blocks than is required in the front. Instead of throwing those blocks in the orphaned block pile sew a row of them and piece them into the back.
You won't have the ½" seams on the blocks themselves (obviously). Just add them into the quilt back using 1/2″ seams and then press those seams open.
Other Backing Options
I mentioned above that there were some other backing options
Bedsheets
Bedsheets can be used very successfully as quilt backings.
Here are some things to think about though.
Don't use used bedsheets they will be too thin and simply won't stand up to lot's of wear and tear
Don't use bedsheets with a really high thread count. It will be too hard to get good machine tension when quilting. 250 to 300 thread count should work fine.
Make sure you cut off all finished edges ESPECIALLY the top where it's folded over. It will be almost impossible to machine quilt through all of those layers.
Fireside and Minky Fabric
These fabrics can be super soft and very cuddly used on the back of a quilt. They work really well for baby quilts or smaller throw quilts. You may want to avoid these backing fabrics for any quilts over 60" of the following reasons
These are made of knit fabrics so if you have to piece the back the seam edges will roll which does make quilting pieced backs challenging. It also makes that area super thick.
Large quilts with these backs can end up being really heavy which may not be what you are going for
Final Thoughts
What quilt back option you finally decide upon may come down to the following questions
Who is the recipient?
What is the occasion (wedding or baby quilt)
Is the quilt a bed quilt?
Is the quilt going to be used loved and dragged around?
Happy Quilting!