So, although I haven't finished my McKenna Ryan quilt, Once Upon a Star, I am at the point where I am hand sewing down the binding and hanging sleeve. Then the real fun begins with the embellishing of the quilt!
Isn't that border fabric perfect? You can't see it from this picture but it looks like little Christmas balls. I didn't have anything in my stash that would work so I had to go shopping! Oh no! If you are looking for batiks then the best place to go in Victoria BC is Bib'n'Tucker as they have the best selection and that is where I found the border fabric. I even got out of the store without purchasing anything else! Win for me (maybe not for the store lol).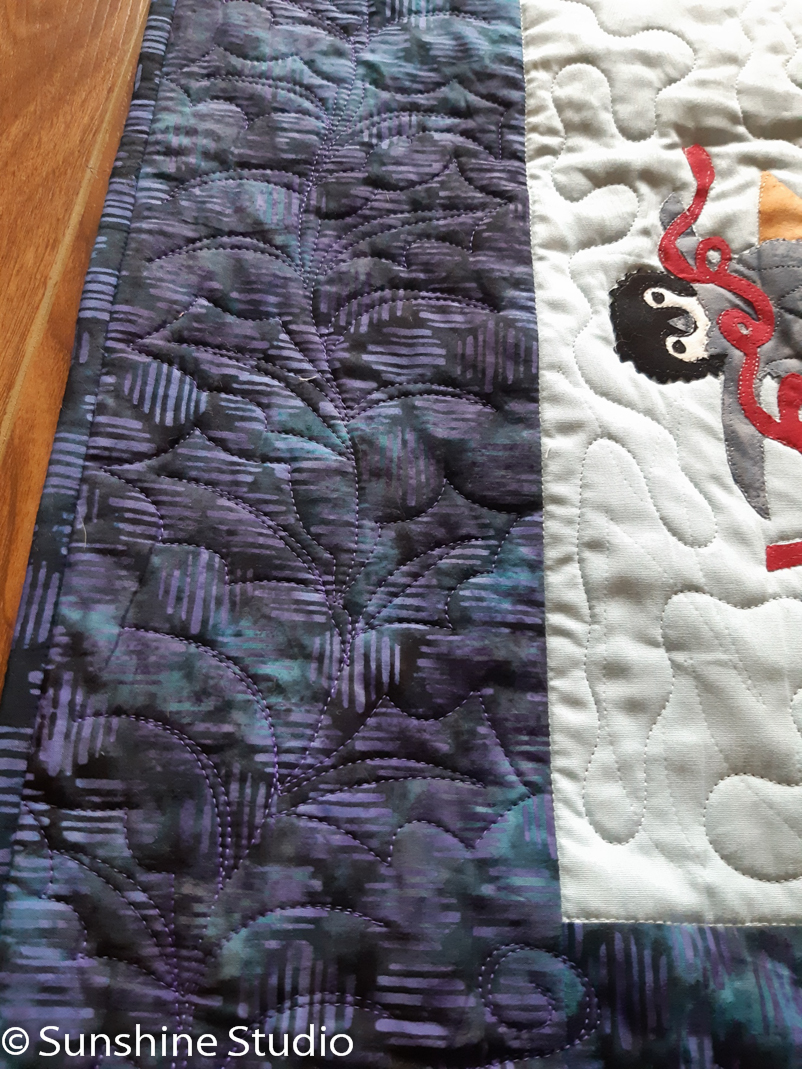 A better picture of the border fabric, I quilted a freehand, holly leaf vine.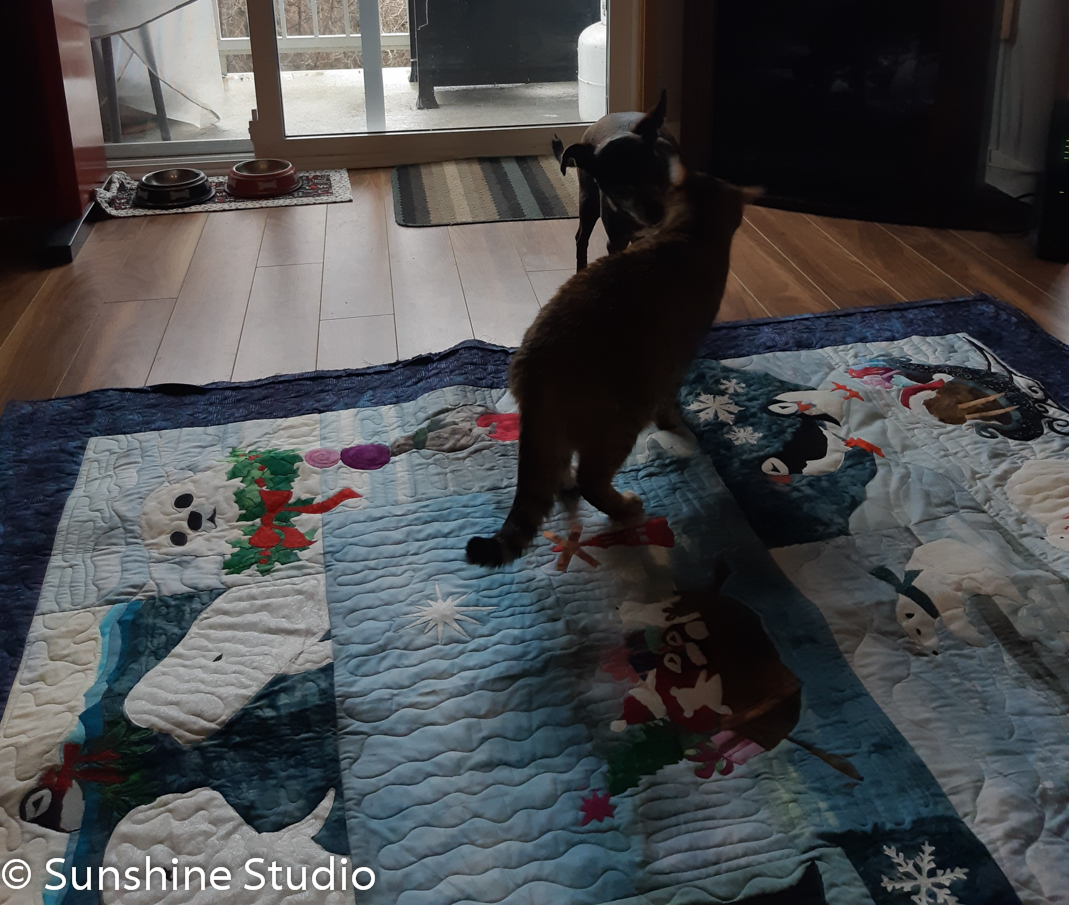 The above picture is a little dark but I thought it was cute. Both my fur babies are curious by nature so had to come to check out the quilt on the floor. They then had to greet each other which I guess they hadn't done yet today. These two are so funny, they don't cuddle together however they are usually not too far apart, do greet each other and even like to play together.
Quilt Pattern Thoughts
Ok so anyone who really knows me will know that I am not a big fan of following quilt patterns unless they are in an actual (professional, not self-published) quilting book. Why you might ask? Well, most quilt patterns are $12.00 and up. You can buy a magazine and get several patterns included for the same price. Cost aside, and yes I do realize people need to get paid for their work, I am a long arm quilter don't forget, however in all my years quilting (and that is a few now) I have yet to use a pattern produced by anyone that does not have at least 3 or more mistakes in them. Ahh!!! Can you tell that is a pet peeve of mine!
The one exception to this is Quiltworx and yes she has errors in her patterns however she also posts all of the pattern corrections on her website and her patterns are quite complex. I have purchased and made fairly simple quilt patterns that have had numerous errors. I did a quilt kit from a Cosy Quilt pattern that had over 5 errors. The worst pattern I purchased (again as a kit)  had over 20 errors. This person actually pulled the pattern after I sent a very LONG email outlining every mistake I found. Yes, you read that right! 20 right down to fabric yardage required. This woman actually missed a border amount needed right off the back of the envelope. She said she had 3 people test the pattern, well maybe she did, however, no one actually READ the pattern that is for sure. Sizes were wrong pictures were backwards it was a MESS! Guess what, this person was selling this hot mess for …..$10.00 a pattern. Not a lot in the grand scheme of things but you would be some upset if you didn't read the pattern through first (I always do) and figure it out in your head and realize that there were cutting mistakes. You would spend a lot of money on fabric for something that was never going to work.
I have made quilt patterns from magazines that were not right either. In fact, I know someone who just recently ran into trouble trying to put together a quilt from a magazine that was not that old. The magazine had dumbed the instructions down to one page and this poor woman was a newer quilter trying her best to figure out how to make this quilt from these awful instructions. I am pretty good at puzzles but it even took me a good hour to try to figure out what this poor woman needed to do to fix the issues. The amount of information that was missing from the instructions was simply criminal.
Wow, this has turned into a bit of a rant. This wasn't my initial intent but I think I will leave the rant in because it does lead me into the next part of this post.
Thoughts on McKenna Ryan Patterns
McKenna Ryan patterns come looking like below.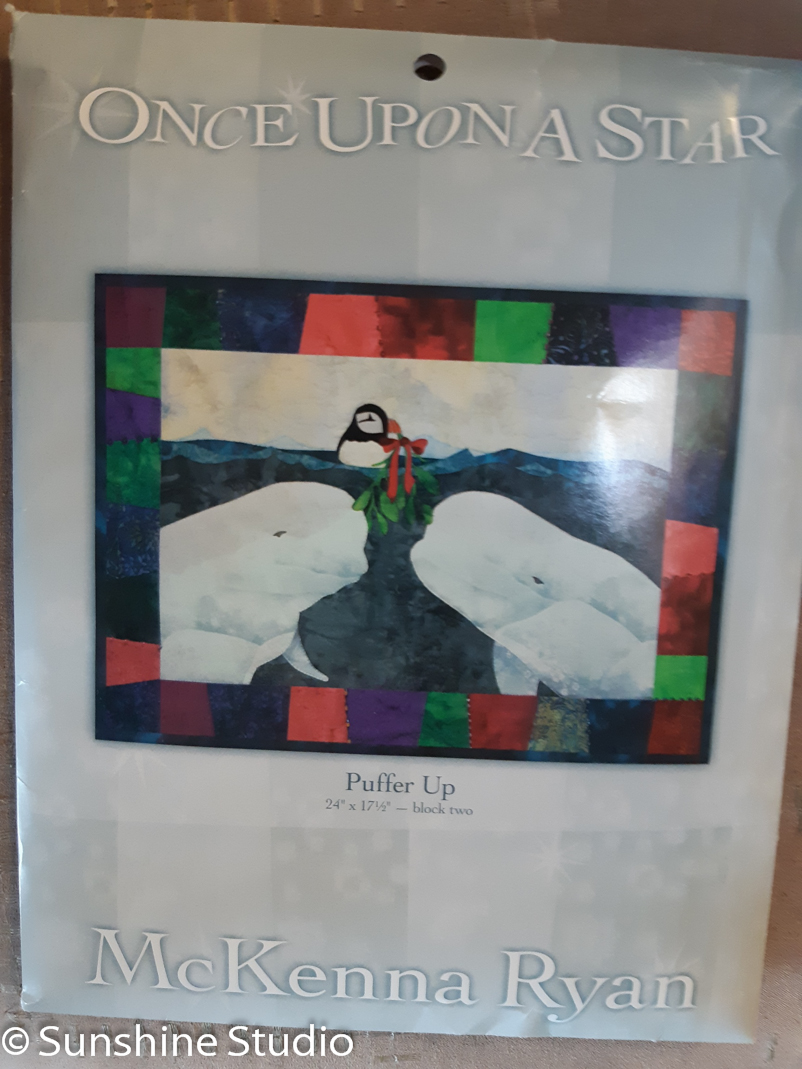 Overall they look far more professional than most quilt patterns and they usually come with a price tag to match. You can purchase the patterns separately or as a kit. The patterns are put together in themes. Each applique themed pattern can be made separately as a small wall hanging or put together to create a much larger wall hanging. These are considered art quilts and are not designed to be washed or to be used as anything but wallhangings.
McKenna Ryan's work is truly amazing and I love her quilt patterns and kits. Her designs are obviously original and a lot of thought and effort go into producing the designs.
Working with the Patterns
So, how did I find working with the patterns? At first, I found the patterns to be overwhelming and quite confusing. They come with two big newsprint sheets.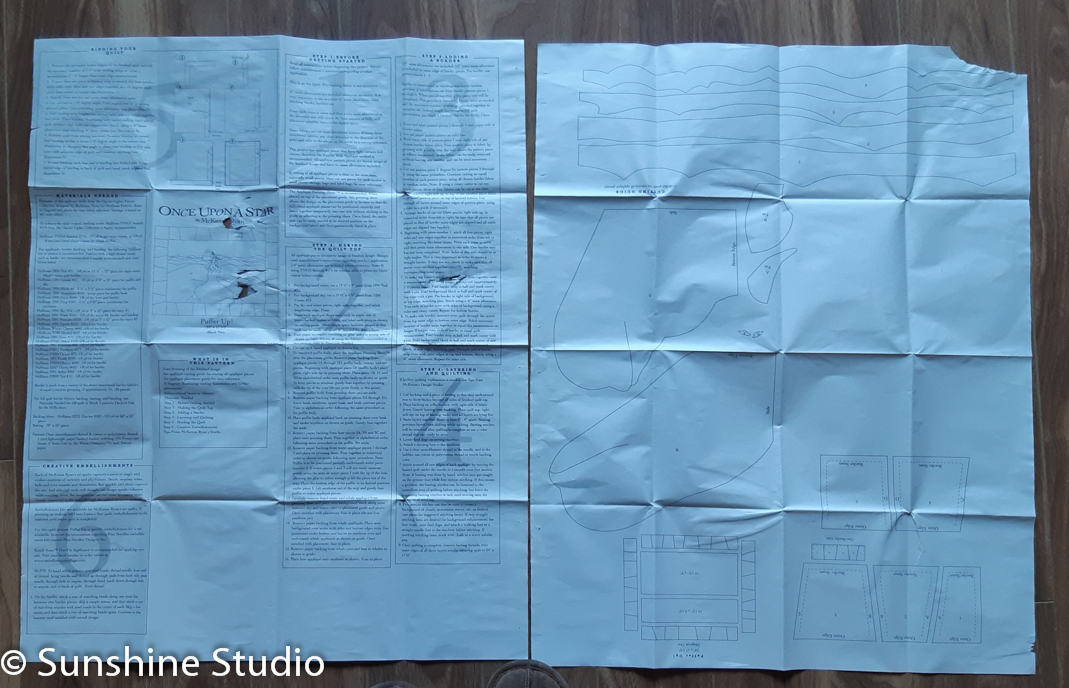 These are numbered with which order to start reading, however, I still found it to be confusing and not logically laid out, at least for my brain to figure out. Once I had figured out how to read the patterns, it helped as they were all the same. Still, it did take me three or four tries and the size of the paper was not helpful as I didn't have anywhere I could lay it out easily until I finally took it up to the dining room table and laid it out there. In that way, I could see everything at once, read everything over and then it made more sense. You can see by looking at the picture that step 1 is on the inside, however, materials needed (the part where you figure out which fabric goes where is above step 6. Hardly helpful.
Step 2 is where you finally get the step by step instructions on how to actually make the quilt. For the most part this was fine, however, you have to watch what you are doing as there are errors! If you follow the instructions EXACTLY as written you will end up glueing pieces below others when they should have been on top. Looking at the placement guide and using logic is sometimes more helpful.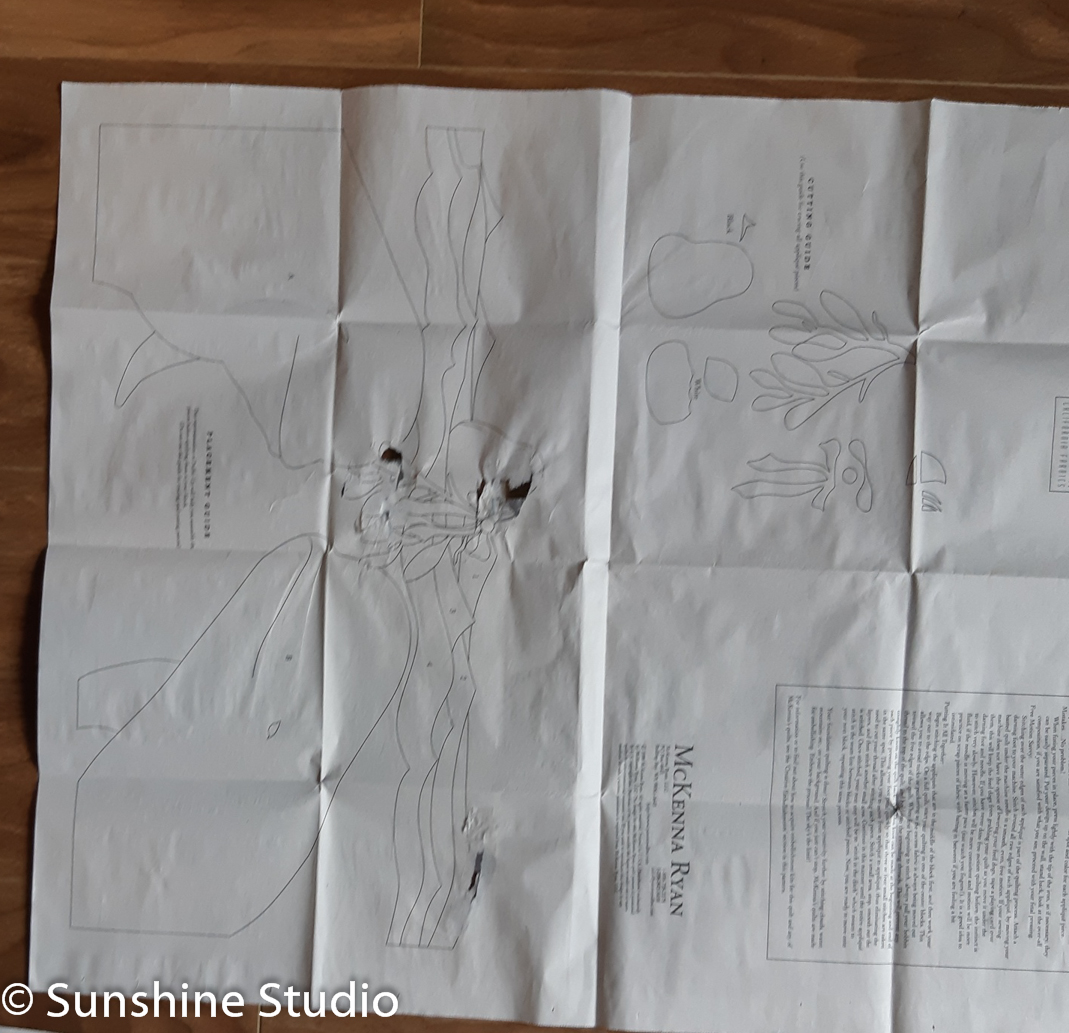 The biggest frustration I had (and maybe they have changed it on newer patterns) is that the placement guide was ALWAYS placed on the back side of where Step 2 is. The problem with that is you have to read step 2 BUT you need to use the placement guide to place your applique pieces.
A little hard to read something you are using. To fix the problem I finally photocopied Step 2 on a separate piece of paper. This was made even more frustrating as the patterns always had two pieces of paper! So why, oh why didn't they put the placement guide on the second sheet! That would have made way more sense.
The other frustration is the kits weren't consistent. Some kits had lots of fabric and if you screwed up no worries. Other kits had barely enough fabric. Honestly, like just a tiny square of fabric. Twice I had to go and use fabric from my stash which is fine. I have a large stash but you shouldn't have to do this and like I mentioned some of the kits had more than enough fabric which actually turned out for the better as I stole from other kits on more than one occasion to make it work, but the kits were all the same price and apparently all come from Pine Needles so I don't understand why the huge discrepancy.
Anyway, it is all good and they were fun to put together. Would I do another one? Yes, but I would have to love it a lot!
Hope everyone has a wonderful holiday season and gets lots of quilting time.