OK it's been way too long since I last posted. Life got in the way and not in a good way either. A few weeks ago I decided to move the blog to another site so I can start uploading videos. I was right in the middle of trying to figure it all out when I got sick!
Has anyone ever experienced vertigo before? Well, I wouldn't recommend it. I had a few warning dizzy spells but nothing serious. I had another dizzy spell one morning but after a few minutes it went away so I went on with my day and hoped it wasn't anything serious.
Next morning I woke up and the world was spinning and completely out of control. I had my Mom take me to the emergency room where I spent the next 8 hours going through numerous tests and scans to ensure I didn't have a brain tumour, or suffered a stroke. The good news is that all these tests came back negative. The bad news is that I was still sick.
This lasted for over a week with me barely being able to get out of bed. Not fun. It finally started to get better and then the fatigue set in. You know get up and do a couple of things then go back to bed and sleep for two hours, get up and do a couple more things and repeat process.
It's been over two weeks now since this all started and I am only now getting back on my feet. I am still not 100% either as I am still off balance and now suffering from bad headaches. Today was the first day I woke up actually feeling closer to my normal self so fingers crossed I am finally on the mend.
Luckily I didn't have a lot of client quilts waiting. I have been busy and it's summer so I had wanted to take a bit of time for me so I only had one client quilt on the frame and nothing waiting. That said I wasn't able to work on that quilt for over 10 days as I couldn't stand at all let alone make it down the stairs to my studio. As soon as I could stand though I was downstairs working on the quilt even if it was only for 30 minutes at a time.
Here are pictures of a client quilt I finished before I got sick.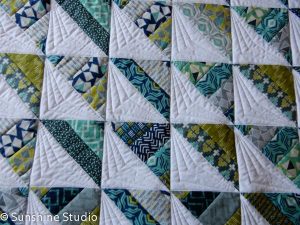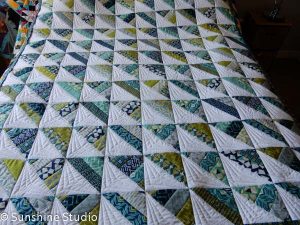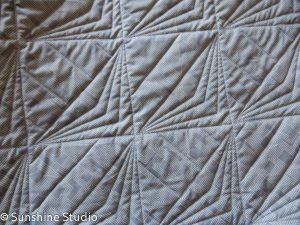 The other thing I was working on before I got sick was a knitting project. I picked up some wool last August at the annual fiber arts festival here in Victoria called Fibrations to make Kevin a hat for working outdoors in the winter. Well, last winter has come and gone and we were cleaning up and I found the skein of wool I had purchased.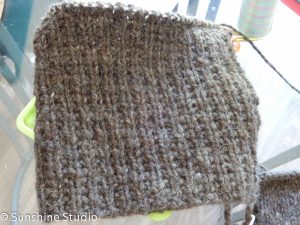 I have now finished the "beanie" it was a free pattern I found somewhere on the internet however I still have to photograph it so that will have to come next post.
The wool was 70% Alpaca and 30% merino hand spun and hand dyed locally. It was wonderful and soft to work with. It would make an awesome sweater but the cost would be insane as one skein was $35.00.
Ha, as I was writing the above, the price of fabric and how much it costs to make a quilt just flashed in my mind so I guess it is all relative as the sweater would be beautiful, soft, warm, fairly waterproof and one of a kind so …..
Well, that's about it. I will have pictures of the finished client quilt quilted (so much for quilting my own quilts although that may still happen yet) and of the finished hat maybe I can even talk Kevin into modeling it for me.
Click here to receive the free Inspiration Journal pattern and sign up for the newsletter