Wednesday, April 3, 2019, was a really busy day. There was a lot on the itinerary and the weather was still cold (you can tell by how we are all bundled up. Our guide Yoshi provided us with daily diaries of the previous days events so todays post will be mostly in Yoshi's words. Oh and the featured image above is from a wedding photoshoot that we happened upon at Kenrokuen Gardens.
"Kanazawa is the second-largest city on Japan Sea coast and boasts the beauty of nature in four seasons. Kanazawa city was the centre of the Province of Kaga,加賀, producing one million bales(koku,石) of rice each year, and was the richest of all provinces next to Shogun. Being a castle town, each generation of Maeda Loads always tried to uplift the people's cultural standard throughout the Edo period. Thus, Kanazawa has become for its numberless handicraft items such as Gold leaf, Wajima,輪島, lacquerware, Kanazawa lacquerware, Kutani,九谷, porcelain, Kaga-Yuzen,加賀友禅, silk dye, Noh plays, the tea ceremony, and Wagashi sweets,和菓子, and so on. It is a town where the people live in traditional culture and still adore the Maeda Clan. "
Kenrokuen Gardens
Our first stop of the day was Kenrokuen Gardens and here is what Yoshi wrote about this spot.
It was a cloudy morning. Although, we did not have rain all day. Thank Shinto Gods!
"As a first itinerary, we visited Kenrokuen Garden, formerly being the outer garden of Kanazawa Castle, the garden was first laid out in 1676. It was opened to the public in 1875. The name, Kenroku-en,兼六園, literally means, the garden holding six qualities: spaciousness, quiet seclusion, artificiality, antique appearance, abundant water and fine prospects. The garden covers 25 ac. The total number of trees are more than 8,500. The tree was big Bonsai,盆栽. We strolled through the Kenrokuen garden. In one corner, we have seen Kanazawa Shinto Shrine. To our surprise, we could see the party of a wedding ceremony there. We could take their photos. Bride and Groom were wearing traditional kimono which were very beautiful. We saw several vermillion coloured torii gates there. Yoshi explained that as many we pass through the gate, we get as many blessings from Deity. All of us passed through the gates."
(remember to click on the red arrow to see more pics.) On this first pic, you can see how cold it was by how Karen and I are bundled up) 
Los Angles Café
The next stop was a café where we were privileged to talk with a Fukushima evacuee, again I will let Yoshi tell this story.
"Then, we visited Los Angeles Cafe and had a talk from a Fukushima evacuee, Mr. Morishima told us how and why he evacuated from Fukushima prefecture. Japan had 53 nuclear reactors before. All these reactors were stopped their operation by the authority when we had Fukushima accident. The Japanese government made a new organization to regulate and control of the nuclear power plant and made a severe criterion for the re-opening of the nuclear power plant. Although the current government lead by the ruling party, Liberal Democratic Party, seems to Yoshi that government is eager to re-open them disregarding that many people are opposing against it. To reopen the nuclear power plants or not is one of the top controversial issues in Japan. If we have an accident like we did have in Fukushima again, it will be the end of Japan.
 Mr. Morishima's story was a sad one. He had been working as a businessman selling Daruma, paper Marcie,  in Fukushima. When Fukushima nuclear power plant was exploded by Tsunami because of 9.1 magnitude earthquake on March 11, 2011, he was obliged to evacuated from Fukushima.  The nuclear power station lost the emergency electricity for the cooling system in the plant. That was the reason why the explosion occurred. He evacuated together with his family, wife and two kids to Kanazawa. First, he could not find a job here in Kanazawa city and it was not easy to set up his life. After a while, his wife became a child neglected due to the difficulty of life. His son boycotted going to school. Mr. Morishima had been struggling to rebuild his life. Fortunately, his house in Fukushima was sold, he got some money and he found current space to open a coffee shop. To open a coffee shop was a suggestion by his twin brother who is living in Los Angeles. After opening, many evacuees from Fukushima getting together here in this coffee to talk and help each other. Now they have founded an organization of 3:11 to encourage and help each other. Especially they are having a foundation to help Fukushima kids to get a homeostatic examination against the possible disease of cancer of the thyroid. Many of us donated money to the foundation. He together with Yoshi stressed that that natural disaster cannot be helped, but the nuclear accident was a calamity which was man-made."
Higashichaya District
We had a more western-style lunch today of grilled fish. It was really yummy and then we had time to walk through the Chaya House area.  This area still has many traditional Japanese houses and shops still. This area of Japan is known for it's making of Gold Leaf so you could find many souvenirs covered in Gold leaf as well as ice cream cones with a sheet of gold leaf on them that you could eat. I chose to pass on this as it was expensive and I was told it wasn't that tasty.
Here is what Yoshi had to say about this district
"Then we went to Higashichaya district. First, we had a good lunch there. Most of us had grilled salmon which were delicious. After lunch, we strolled the Chaya House area. The area was very Japanese looking. Many low rise, mostly 2 story, traditional houses with wood construction were preserved there. They were roofed by black clay tile roofing and horizontal cider wood siding with windows covered by the vertical grid. We saw many shops there, however, there are several geisha houses were existing even now. When Yoshi visited to view inside the Geisha house previously, Yoshi was explained that in that district there are around 20 geishas working with maintaining traditional ascetic training such as Japanese dancing, playing traditional music instrument called Shamisen.  This Geisha culture came from Kyoto. When we extend our adventure to Kyoto, we can go to Gion 祇園area to see these row of traditional houses."
(Remember to click on the red arrow for more pics)
Jyokoji Buddhist Temple
After our walk through the Higashichaya district, we moved onto a Buddhist temple belonging to the pure land sect of Buddhism. I will again let Yoshi explain this (he does this so well).
"Then we visited one of Buddhist temple named 浄光寺. A priest there invited us to his Temple's main hall.
That temple belonged to Pure Land sect in Japan. A priest, Mr. Fuji, Fuji-san told many stories. Most of the travellers raised questions to the priest about Japanese Pure Land Buddhism. Fuji-san invited us to the basement grave arranged like a locker. He explained that that type of grave is welcomed by the people who have an uncertainty of succeeding family because they will be enshrined by the temple for eternity."
Omicho Market
Our last stop of the day was the Omicho Market where we saw many fish, vegetable and craft stalls. These were semi outside, the market was open to the air where you entered but was completely covered so although it was cold (no heat) you at least didn't get snow or rained on.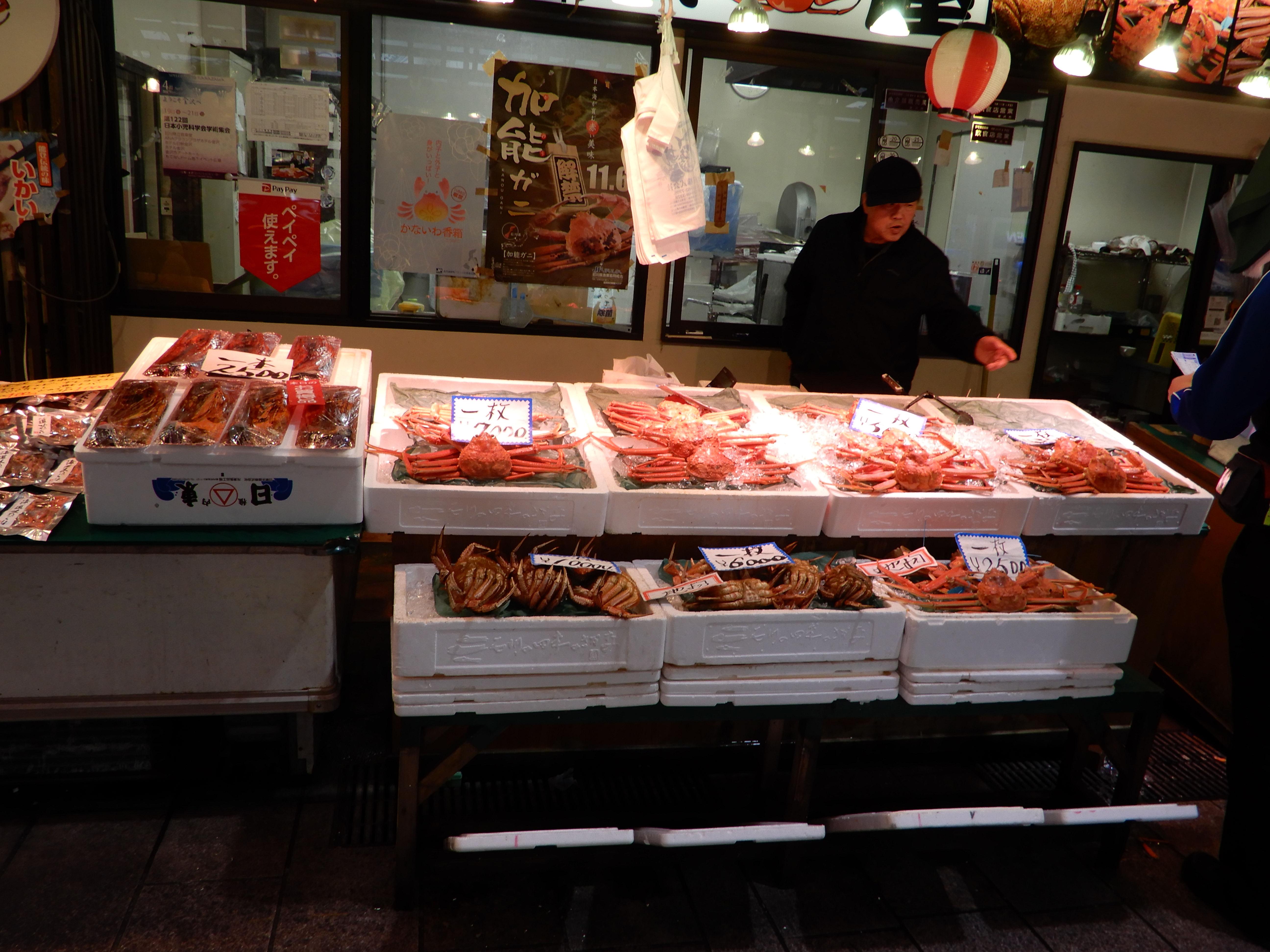 The next day was to be an optional tour with some really fun things to do and see however it was to be further up into the mountains with even colder temperatures so Karen and I opted out. We had had enough of being that cold!