Warning this post will be very picture heavy and the pictures don't even start to give both of these places justice. They are simply breathtaking and both so very sacred in their own ways.
This was the optional tour to Nara day, however, Karen and I opted out as we were going to do Nara on our own however this was still going to be a very busy day for Karen and me with many train rides to get to our locations.
You see Karen heard about the Moss Temple and she decided she really wanted to see it, however, you have to apply for permission to visit by letter. Karen contacted Yoshi before our trip and asked for his help with this and lo and behold we were able to get invitations for both Karen and me to go up to this very sacred place to visit. So today was the day. Our time wasn't until 1:00 pm though so that gave us time to visit the Fushimi Inari-Taisha Shrine first.
Fushimi Inari-Taisha Shrine
Fushimi Inari-Taisha (伏見稲荷大社) is the head shrine of the kami Inari, located in Fushimi-ku, Kyoto, Kyoto Prefecture, Japan. The shrine sits at the base of a mountain also named Inari which is 233 metres (764 ft) above sea level, and includes trails up the mountain to many smaller shrines which span 4 kilometres (2.5 mi) and take approximately 2 hours to walk up.[1]
First and foremost, Inari is the kami of rice, but merchants and manufacturers have traditionally worshipped Inari as the patron of business. Each of the torii at Fushimi Inari-Taisha has been donated by a Japanese business.
This popular shrine is said to have as many as 32,000 sub-shrines (bunsha (分社)) throughout Japan.[2]  Wikipedia
So on this morning Karen and I got up super early and headed for our first train ride of the day by 7:00 am. We arrived at the temple before the food vendors had even set their stalls up. It was 7:30 am. Now you would think that the place would be deserted right? Not so, I am not sure what time people have to get up to take those wonderful pictures of the endless red-orange torii gates going on forever with NO people in them but it would have to be before 7:30 as even then we weren't able to get pictures of the gates without someone else in them.
The featured picture above is one I took further up the mountain so was able to get it empty the picture below is from the internet as the gates closer to the main temple still had so many people there even so early in the morning.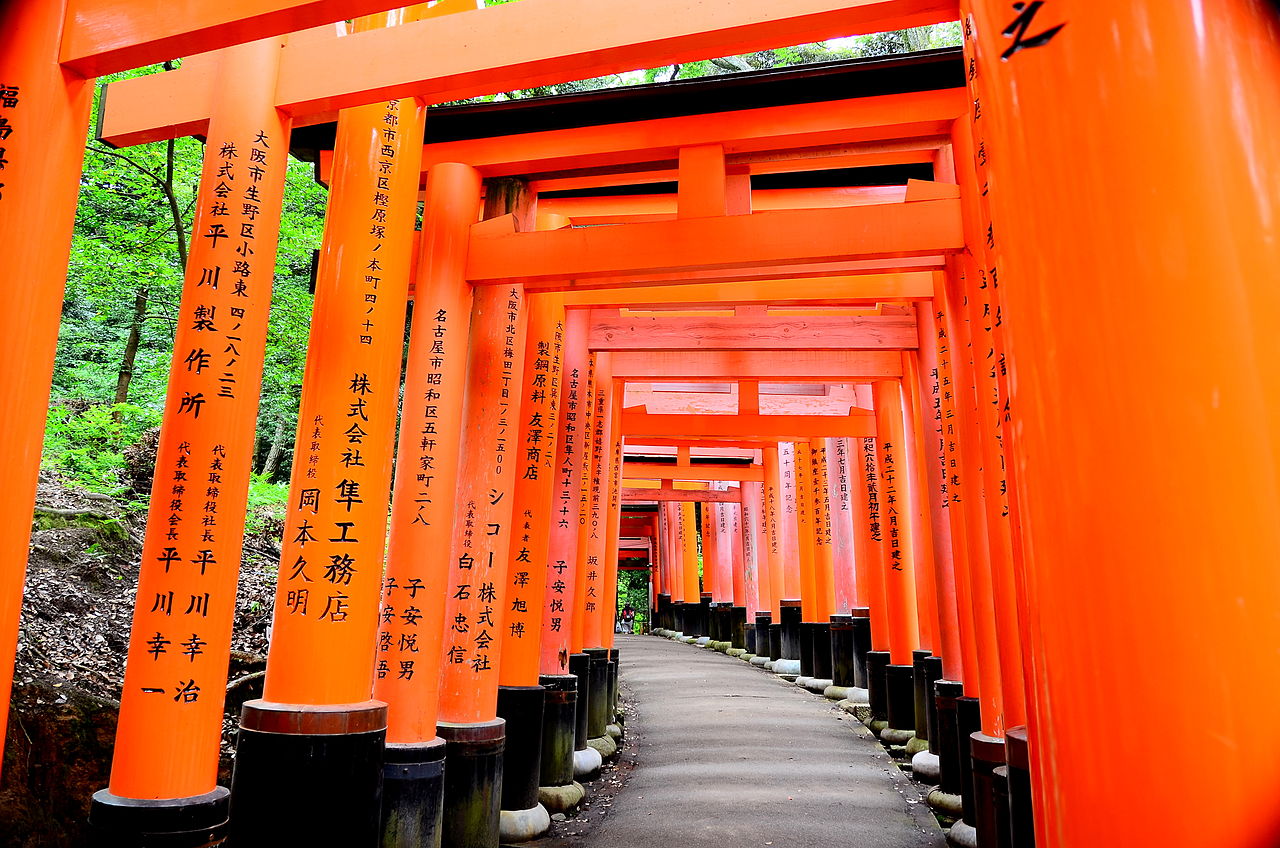 We made it have way up the mountain however ran out of time as we needed to get back to the train by 11:00 am at the latest to get to our next destination and we didn't want to miss that. We came back down the mountain along the backside and since we were so early and left the hike before most others, we had the backside trails all to ourselves in a lot of the areas. It was so wonderful.
There were many little sub-shrines and quiet little out of the way places to explore along the back route that we kept having to remind ourselves that we had a train to catch.
By the time we made it back to the entrance of the temple, the food vendors were open so we were able to grab something to eat. The temple is about 5 blocks away from the train station, when we got within 2 blocks of the train station we saw a frightening sight! Hoards of people (I mean masses) were coming towards us. It was insane and by this time there was traffic police at all of the intersections trying to maintain order. Wow, it had just gone 10:30 am by this time.
Our group visited that same shrine at 3:00 pm that afternoon and they said you couldn't even move for the hoards of people. This shrine is so worth seeing but if you are going to go, get up early and go then so you can really enjoy it, I couldn't imagine trying to climb up a mountain with thousands upon thousands of other people right on your tail.
Saiho-ji (Moss Temple)
Saihō-ji is a Rinzai Zen Buddhist temple located in Matsuo, Nishikyō Ward, Kyoto, Japan. The temple, which is famed for its moss garden, is commonly referred to as "Koke-dera", meaning "moss temple", while the formal name is "Kōinzan Saihō-ji". Wikipedia
This temple has decided to limit the number of visitors each day to try to keep the garden pristine and also so that the visitors can enjoy the peace of the garden. There are several conditions that you have to meet before you can tour the garden and you have to show your invitation before entering.
The requirements are:
You have to apply to visit the temple by written postcard. You can do this internationally however as mentioned we had Yoshi help us.
The fee to enter is 3000 yen or roughly 30.00 US
Visitors are given access to the grounds for 90 minutes although we found they really didn't rush you.
Before being permitted access to the garden visitors must engage in an activity which varies from day to day.
We had a group of around 30 people and we all presented ourselves at the gate with our invitations. We were then ushered into a large waiting room where we were asked to queue up and pay the entrance fee in cash. From there we were all ushered into a small hall where we were told (all in Japanese we figured it out by the hand gestures) to sit on the floor where we had small writing desks, with paper, and ink well and old fashioned ink pen were provided.
We then had to write, luckily in English are names, where we were from (this was all written out on a form we were given in both Japanese on one side and English on the other) and why we were there. This was collected from us.
It then looked like a head monk came in and started hitting a large drum and then chanting we were given a sheet to chant along with the monk. The last thing was a sitting meditation (all in Japanese) and then we were allowed to go and view the garden in silence.
It was a very beautiful, peaceful and truly wonderful experience. One I would highly recommend.
Back to the Hotel
It was getting close to 4:00 pm when we left and we still had to make our way back down the mountain to catch the train(s) back to Kyoto.
 Oh, did I mention that we had a 20-minute walk up a mountainside from the train station to get to this temple? Yup, we could have taken a bus however we found it too hard to figure the bus schedule out so with google maps and asking people we met along the route we made it to our destination. It was interesting asking people who don't speak any English at all but we figured it all out in the end.
I honestly don't remember what we did for dinner this evening, more than likely just grabbed something on the way.