If you are a new quilter or a sporadic quilter (is there such a thing) you may be new to building a quilting fabric stash.
Of course, you may decide you don't want to build a fabric stash and just purchase fabric for the quilt you want to make as you go along. There is no right or wrong way to do this. Quilting is meant to be fun and creative.
It really depends on what kind of quilts you like to make. Me, I love controlled scrap quilts. I love the look and texture different fabrics bring to the look of the quilt. I can keep the colour palette to three or four different choices; however, I use many different fabrics in that colour range to achieve the effect I want.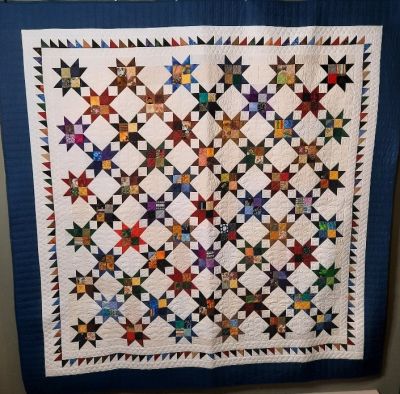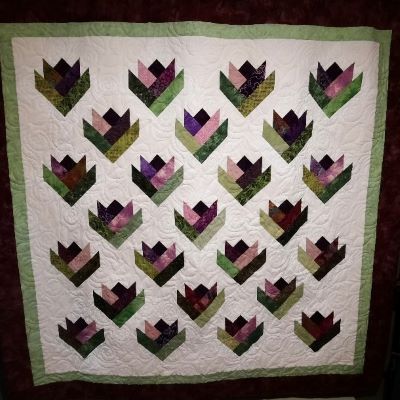 Some quilters love the look of old-fashioned scrap quilts where you throw everything at them. Some of Bonnie Hunter's quilt designs come to mind here. I love her quilts and patterns but would have to tone them down for my taste.
I first started sewing as a young teenager. At that time, I just made garments and didn't have a fabric stash. Materials were bought as needed for the project at hand. That all changed once I became a quilter though.
The Colour Filled Fabric Pantry
A stash, like a pantry, should provide its owner with the resources to create whatever they want, whenever they want. For the quiltmaker, the fabric is the medium. It's kind of like stocking a pantry. We need to purchase fabric like a painter buys paint. Have some of every colour.
That doesn't mean you shouldn't buy the beautiful "starring" role fabrics. You know the ones, that big bold print that you fell in love with. Just remember that along with that big bold print you will need a supporting cast of small prints, tone on tone fabrics as well as colours that blend well with that print.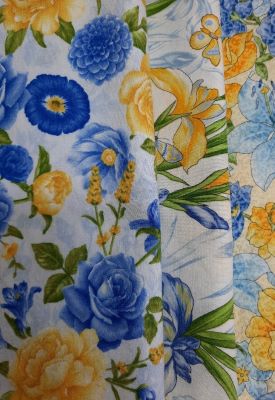 Tips for Building a Quilting Fabric Stash
Not every quilter has a fabric stash or even wants one, however, there are several reasons why building a quilting fabric stash makes sense.
Quilting fabric has seasons, and many designs are made in limited quantities. If you fall in love with a fabric, it's best to purchase it then, as it may not be at the store the next time you go shopping.
Being able to "shop" your stash when the quilting bug hits late at night
Here are a few tips to really start building a fabric stash
Buy background or tone on tone fabrics when they are on sale will save money when you go to make your next quilt, especially if you tend to use more than one fabric in the same colourway in your quilts. Think controlled or scrappy quilts
Check out the "clearance" fabric bolts, yes some of these fabrics are ugly but sometimes you get lucky, and you will find a fabric that is neutral enough to be used as a backing. If you do get lucky purchasing 5 yards of fabric that is heavily marked down will be a great money saver.
Purchase more fabric than the pattern calls for. This is also great because if you ever have an "oops" moment in cutting (and you will) you won't freak out because you will have extra fabric on hand.
Building Your Fabric Stash- How Much Should You Buy
This is a hard question and can be subject to personal preference however here are some of my suggestions.
The Starring Role Prints
If you love the fabric and it is a print or "starring role" fabric purchase at least 2.5 to 3 yards. This way you have options as you may want to use the fabric in the blocks and in the border. If you don't end up using it as a border fabric you can always use the extra fabric on the back of the quilt and piece the back with a coordinating fabric. Let's face it fabric will never go to waste if you do this.
Background and Coordinating Fabrics
Many patterns call for "background fabric". A lot of the time this will be white or cream. This could be a tone on tone or a solid. This could also be a very pale colour fabric as well. Any fabric that won't fight with the other fabrics in the quilt. You want some contrast between the background fabric and the main fabrics.
A background fabric could also be black if the main colours used are really bright.
Since patterns generally call for at least 2 to 3 yards of a background fabric depending on the size of the quilt, I tend to purchase more of these fabrics. I do this even if I am doing scrappy and using more than one background fabric in my quilt.
Coordinating Fabrics are the tone on tone and small print fabrics that would work with your starring role fabrics.
For these fabrics purchase 1/2 to 1 yard.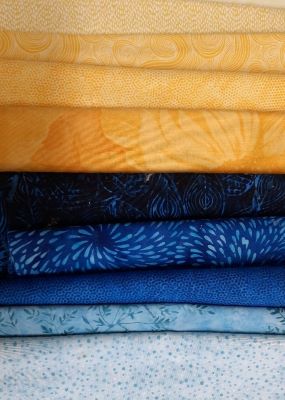 Fat Quarters
Fat Quarters can be fun! If these are a bundle from the fabric company, then you can be assured they are all the same size. I have learned however that not all fat quarters are equal. I prewash my fabric first, and I have found that when using fat quarters for a quilt project, I am quite often 1 inch short of the fabrics I need which is super annoying.
For this reason alone, I tend to avoid purchasing fat quarters unless I am using them in a scrap quilt where it really doesn't matter how much fabric I will need.
Final Thoughts
When building your quilting fabric stash make sure you are getting fabrics of all colours, not just your favourites. This will make your stash much more versatile.
Once you have collected (yup I look upon my stash as a collection) many different colours and built up that stash, you will find there is nothing better than seeing a pattern you love and running to your stash and doing your shopping there.
Happy Stash Building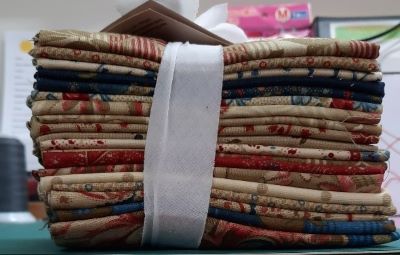 Check out more Quilting Tips and Tricks here!