Who knew that going through the McDonald's drive-through would be the highlight of the day! Seriously, and this from someone who hates drive-throughs.
However, that is exactly what happened the other day. It was a beautiful day and so Kevin and I decided to go for a quick drive and we ended up going through the Golden Arches aka McDonald's drive-through and then found a scenic spot (of the ones that weren't blocked off) to sit and have a picnic in the car.
Now, I guess we could have packed a lunch ourselves but sometimes you just don't want the bother.
It's funny when you have choices galore you forget to appreciate the abundance of nature that is all around you. I know that only going out when necessary has made me truly cherish those outings. Ok, maybe not the grocery store!
Who else finds the grocery store incredibly stressful these days? It can't be just me!
Info Update
Since we are all into the social distancing thing these days and I can't explain the different thread choices to my clients in person I have made a short video explaining the different thread types. I have added it to the Quilt Top Preparation page. Choosing the Right Thread for your quilt top. 
Vintage Valentine Quilting Dilemma
I have finished my last client quilt for the moment and my frame was empty, so I finally loaded my endless Vintage Valentine project on the frame. This was my hand applique project I started way back when.
You know, I find it so much easier to pick quilting designs for client quilts. My own, not so much. I guess because on my own I want to try something new, however then I get all worried that it won't be the right design or I won't like it, or it will be horrible because it's new and …… well, you can see my dilemma. I can talk myself out of almost anything and the ideas go around and round.
I need to just stop, try something new and enjoy the process.
Oh well, at least I can start with stitch in the ditch and then figure things out as I go. Maybe I will actually have this thing finished before next Valentine day.
What was I thinking when I started this project? I don't like hand applique and I don't particularly like hearts. Nevertheless, I am forging ahead.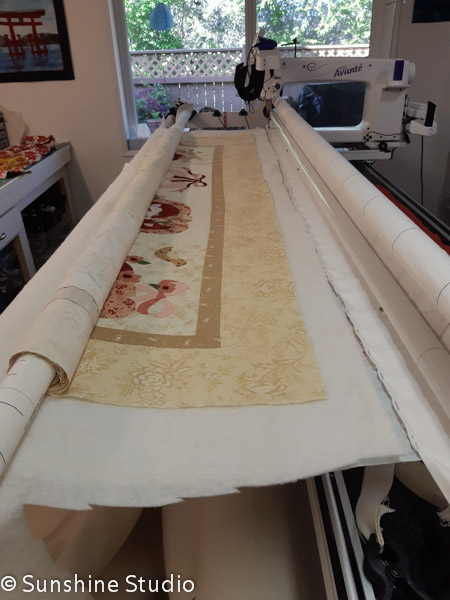 New Projects
Last post I mentioned starting one of my last three kits that I had purchased however that project got a little sidetracked.
The other day I was looking for something stashed under my long cutting counter when I came across three bins of fabric that I had stored there.
What's this! More fabric! Ok to be fair one bin had all the unused leftover fabric from the Vintage Valentine project. I had it stored in a separate container so that I wouldn't inadvertently use the fabric for another project.
The other two bins were from a neighbour (and former client) who had recently passed away. Her husband had asked if I wanted to come over and see if there was anything I could use from her stash before he got rid of everything.
Didn't have to ask me twice. Not that I need more projects or fabric mind you.
I have lots of .5 metre or metre pieces but not a lot of larger pieces so when it comes to backings I am having to go and purchase them. My neighbour happened to have lots of pieces that were over 2 metres so I gathered up those pieces.
Along with all of that she had two bins with projects that were started but not completed and, on a whim, I had taken those too.
So, ok now I am completely diverted and opened up this one bin with half done projects and there was one with two blocks completed and two more cut out, no pattern to be found, 1 orphan block from another project but using some of the same fabrics and the leftover fabric pieces.
What I discovered was that there wasn't enough background fabric to complete an overall quilt of any size, so I made two larger table runners.
These are totally not me. I don't use fabric from all one line in a project, I find there is just not enough colour contrast or variety for me. Oh, I think they look nice enough, but it is not something I would use or keep.
So, I will quilt these up and then offer them up to the church to go on the Holiday Craft Table and someone else can love them.
I had fun using up the orphan block and all the bits and pieces of fabric I had to create the backs. Once these were completed, I didn't have very much fabric left at all. Just a few scraps to be used in a scrap quilt somewhere down the line.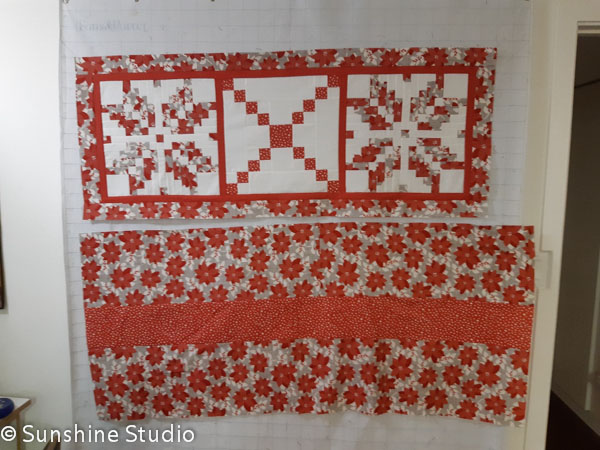 How are you managing to keep yourself diverted? Any drive-through experiences these days?