The first day of Autumn. I love Summer and this one was particularly good however the weather has changed now, it's still sunny but much cooler.
The last few weeks have been busy with some local travel going on. Kevin's daughter had her housewarming party in Nanaimo a few weekends back so Kevin and I headed up there for the day. We got there early so enjoyed fish and chips on the wharf in downtown Nanaimo as well as some window shopping before heading to the party.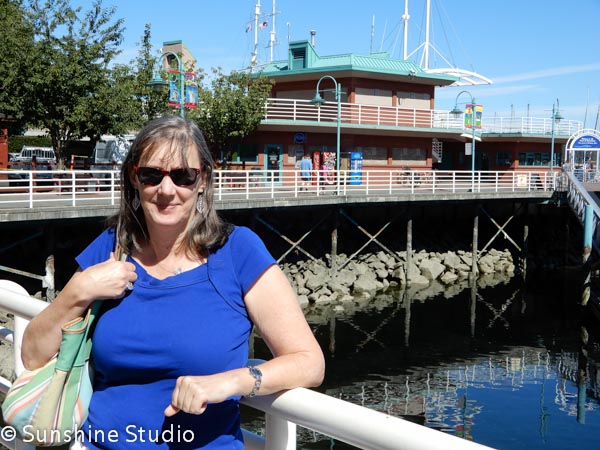 It was a beautiful sunny day especially considering it was Labour Day weekend. Picture perfect actually.
The next weekend my Mom and I took the ferry to the Mainland to visit my sister and her family. It rained the Saturday but the weather turned warmer on Sunday. Didn't matter much though Mom and I spent most of Sunday at Ikea in Coquitlam doing some damage to my credit card. You should have seen us trying to fit everything in the back of the SUV and we still had to pick up my friend Karen from New York at the airport on the Monday. Ha we got it all in but it was a tight squeeze.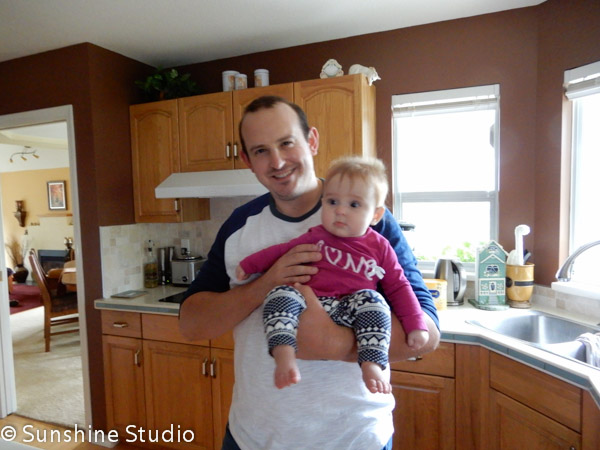 My wonderful nephew holding my sweet great niece Georgia. She is just too cute for words and loves to cuddle.
So on the Monday Mom and I picked up my friend Karen from New York and we headed for the ferry. We lucked right out and were able to see a pod of whales along side the ferry half way through the trip. Ha saved the money for having to take a whale watching trip.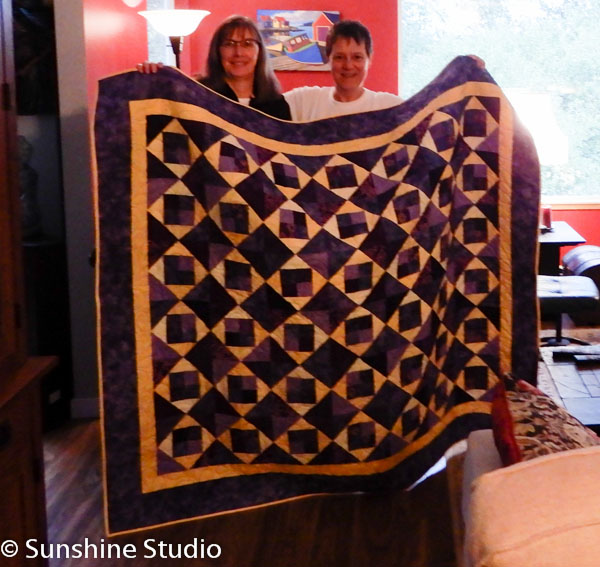 I had made Karen a quilt (of course, that's what I do) so here I am presenting it to her. The picture isn't great. Kevin is awesome at editing videos, painting and music but picture taking isn't one of his strengths yet.
It was fantastic seeing Karen again and getting to show her around the beautiful place where I live. I had a great time and it gave me the opportunity to see some places on the Island that I haven't visited in quite some time.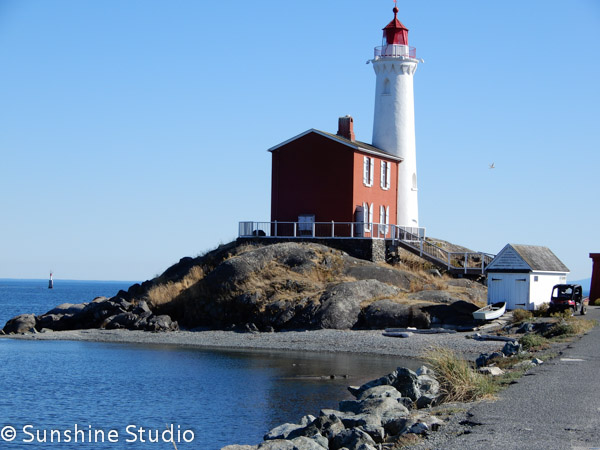 We lucked out too as the weather held right up until her last two days here. We spent an afternoon touring Fort Rodd Hill which I hadn't done in years. Above is a snapshoot of Fisgard Lighthouse.
Last Friday we went up the Island and stopped at Whippletree Junction for some shopping. I found a great old Elna sewing machine (which I haven't taken a picture of yet) and two lamps. We had lunch at a great restaurant right on the water in Qualicum Beach and then stopped at Little Qualicum Falls. From there I took her to Cathedral Grove to see an ancient Douglas Fir ecosystem. It was so still and quiet in the Grove except of course for the cars on the highway. Oh well.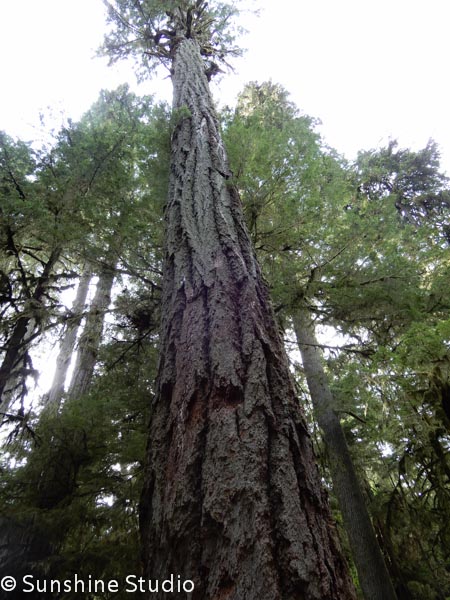 Karen flew back home on Tuesday and I miss her already. I had a great time playing tour guide and falling in love with Vancouver Island all over again.
With Autumn comes the cooler weather and of course quilts. People are starting to get back to sewing again and thinking it's only a few months now until Christmas, so back to work to help my clients finish their projects.
Click here to receive the free Inspiration Journal pattern and sign up for the newsletter