Winter seems to have come early in this part of the world, we even had snow a week ago. One day I am walking the dog wearing just a sweater and two days later we are having to pull out the complete winter gear. Yikes. I hope that is not a sign of how this winter is going to progress.
Well, it's been awhile since I have posted an update here. I have been super busy working and quilting customer quilts. I have made some changes in my work life these days as I am no longer working at The Cloth Castle. I really enjoyed my time working there, however, I was offered more hours at my other job and it does pay far better. So with that and the fact that I am getting busier with client quilts as well, I made the decision to simplify my life a bit.
It has been a good decision even though I do miss working at the store and meeting all of the customers. I now have my weekends back and it is far easier to schedule in time with family and friends, as well as time for quilting. Now I just need to find some time to quilt my own quilts.
Awhile back I wrote a newsletter on how to choose the right batting for your quilts. This question has come up again so I thought I would repost this article here.
Batting Primer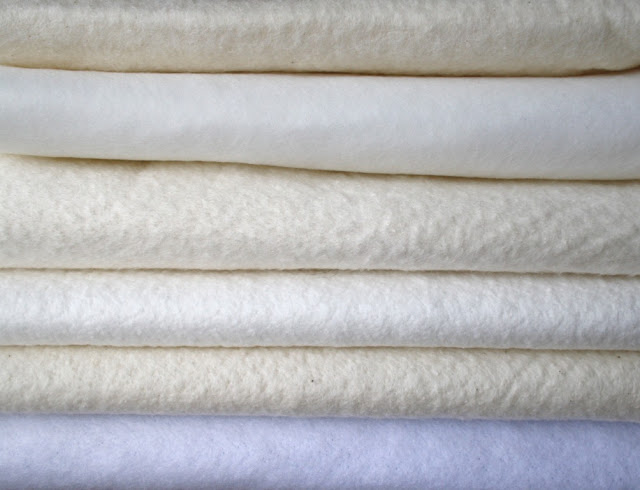 There are a lot of different types out there and I could probably write a whole book on the subject. Not sure it would be the most interesting book mind you but still…
Each step of bringing a quilt to completion has its own choices, challenges, and delights. Some people love piecing the quilt top but could easily forgo the sandwiching and quilting part of the process. I guess that's why I know lots of people with a drawer full of unquilted tops.
Batting selection can be boggling these days as there are so many choices on the market. So how do you choose the right batting for your project?
Where to Start?
First off you need to start by asking yourself some basic questions.
What am I making? 
Is this a baby quilt that will be washed over and over, a wall hanging that may never be washed, a bed quilt or heirloom keepsake.
How will I be finishing it?
Will this be tied, hand quilted or machine quilted.
Machine Quilted
If the quilt is to be machine quilted, what kind of quilting is required, loose all over design or an intricate custom quilted design?
The type of batting to be used in your project will vary depending on the answers to the questions above.
Basic Batting Terms
Once you have answered the questions above it is time to move onto what types of batting are available. Here are some simple terms to help you get started.
Loft: High
Loft is the thickness of the fluffed batting. A high loft is anything above 1/2 inch, and the highest lofts come in the polyester battings. These types of battings are typically used for hand tying quilts
Loft: Medium
The fluffed batting is somewhere between 1/4 to 1/2 inches.
Loft: Low
The fluffed batting is somewhere between 1/4 – 1/2 inches. This is the most common loft for machine or hand quilting.
Quilting Distance
Quilting Distance is the distance between rows of quilting stitches which will keep this batting from shifting or bunching. This varies radically depending upon the type of quilting you are using.
Bonded 
Fibers are held together through a bonding agent, similar to a glue. Some bonded battings may not be able to be preshrunk as the glue used may dissolve. Another drawback to this type of batting is that the quilting stitches may need to be really close together.
Scrim
A light, loosely woven fabric, sometimes used to stabilize batting fibres when needle-punching. Often a polyester fibre, it may even be used in batts labelled as all cotton.
Needle-punched
Fibers are loosely felted together by a felting process using tiny needles. This creates a more stable batt, but some hand quilters find it difficult to use as it is quite firm. Most needle-punched batts include a scrim for securing the fibres. They may provide more stability for wall hangings.
Different Batting Fibers 
So now you have decided what the quilt is to be used for, whether you are going to tie, hand quilt or machine quilt the finished top and you have some idea of batting terminology, now it's time to pick what type of fibre you want your batting to have.
Cotton 
Fiber from harvested cotton bolls.Cotton is stable, soft and washable however it will shrink. Cotton tends to yield a flatter look than a polyester or cotton/poly blend when quilted. The cons of straight cotton batts are that the batting can 'beard' or have fibres migrate through the stitching holes of the quilting.
Polyester
Polyester batts have a higher loft than cotton and offer great stability between fibres. Polyester batts are the best choice when you want to 'tie' a quilt as it will have the least bunching.
Cotton/Poly Blend
Considered by many to be the best of both worlds, these blends offer the softness of cotton and the stability of polyester. Bonded ones may be easier to hand quilt than needle-punched. Blend percentages vary by product however the most common blend is 80% cotton and 20% polyester.
Bamboo 
The fibres from bamboo are long and strong, but surprisingly soft. Bamboo can be as drapeable as silk, and as soft as fine wool.
Wool
Wool is extremely soft, and the warmest batting option. It is easy to hand quilt and is a good choice for machine quilting as well.
The above types are the most common on the market today although there are others. There is a batting made out of recycled plastic bottles that is called a green batting and I believe it has the colour green as well. There is also silk batting and organic batting. Both of these types are more expensive.
As well as the above there are also thermal battings used for oven mitts and very low loft thermal battings used for placemats.
Batting Colour
Once you have finally decided on what type of batting you are going to use there is one final consideration to make and that is the batting colour. Now some people may not care about this but depending on the project and how the quilt is to be used it may be a consideration.
Battings can come in three colours (4 if you count the green plastic bottle one). These are
Cream or Off White
This is the most popular colour of batting. Both Hobbs 80/20 and Warm and Natural two very popular types of batting are cream or off-white in colour.
Black
Hobbs 80/20 batting also comes in a black colour. You may wonder why anyone would use a black batting, however, consider this, if your quilt project is mostly black and bright colours you don't want a white or cream batting showing through the needle holes. In that case, you may prefer to use a black batting. Black batting is a little stiffer than the cream because of the black dye however it does soften up with use.
White
Most 100%cotton batting is white and there is a batting called Warm and White that is also very white. You would want to use a white batting if your quilt is more modern with a solid white background colour. The cream batting would dull the bright white look of the quilt.
Conclusion 
I think for batting you may just need to get some small samples and test them out yourselves until you find the brands types you love.
As for me, I have used the following battings.
Hobbs 80/20 (my go-to batting for everything)
Hobbs 80/20 black
Kyoto Bamboo Batting (lovely to work with
Hobbs Wool
Warm and Natural (quilts up nicely)
Warm and White
Well with all of the above I may have just confused you more than enlightened you. I didn`t even touch on fusible batting something which I loved to use when I was quilting using my domestic machine. I never used fusible on baby quilts though.
Click here to receive the free Inspiration Journal pattern and sign up for the newsletter