Interestingly, and I think I have mentioned this before, my world doesn't look that much different these days than it did before. I mean I have been working from home now for a couple of years and I don't tend to go out much anyway.
I do miss going to church on Sundays and going out for dinner or lunch but besides that, my life revolves around my bedroom office, the occasional foray into the kitchen and down into my quilting studio.
Thank goodness I was able to get my studio back together before this pandemic! Oh, my it was bad enough without it for 3 months, but not having it and being stuck inside would have been really pushing the limits.
Cocoa Update
Cocoa is doing great after his dental surgery. Having 16 teeth out seems like a lot but he still seems to be able to eat without any issues. His teeth must have been bothering him though without us really even noticing (don't you wish animals could talk to us) as he is a lot more playful and even gets the zoomies again. He tries so hard to get the cat to play with him. She just sits and looks at him with that superior expression that only cats can have.
I take him back to the vet tomorrow for a checkup to make sure everything is going ok however I am sure it is.
Client Quilting
Since everyone is stuck inside what do quilters do? Well, quilt of course, and thankfully for me, that means I am able to keep busy. I am really glad that I have been able to figure out a way to exchange quilts while still keeping everyone safe.
Thank goodness for mobile phone cameras and email! It's not quite as nice as being able to chat with my clients and getting to know them but hey, whatever works.
It does seem weird to hand off a quilt and get paid for work that the client hasn't even seen yet. So far so good and it does seem to be working out well.
I recently had a new client call me, someone who isn't actually a quilter but who wanted a custom "bed spread" done. She had gone to a designer place as she wanted something to match the décor in her bedroom so she carefully chose her fabric and quilting design and was told they would send her the quote.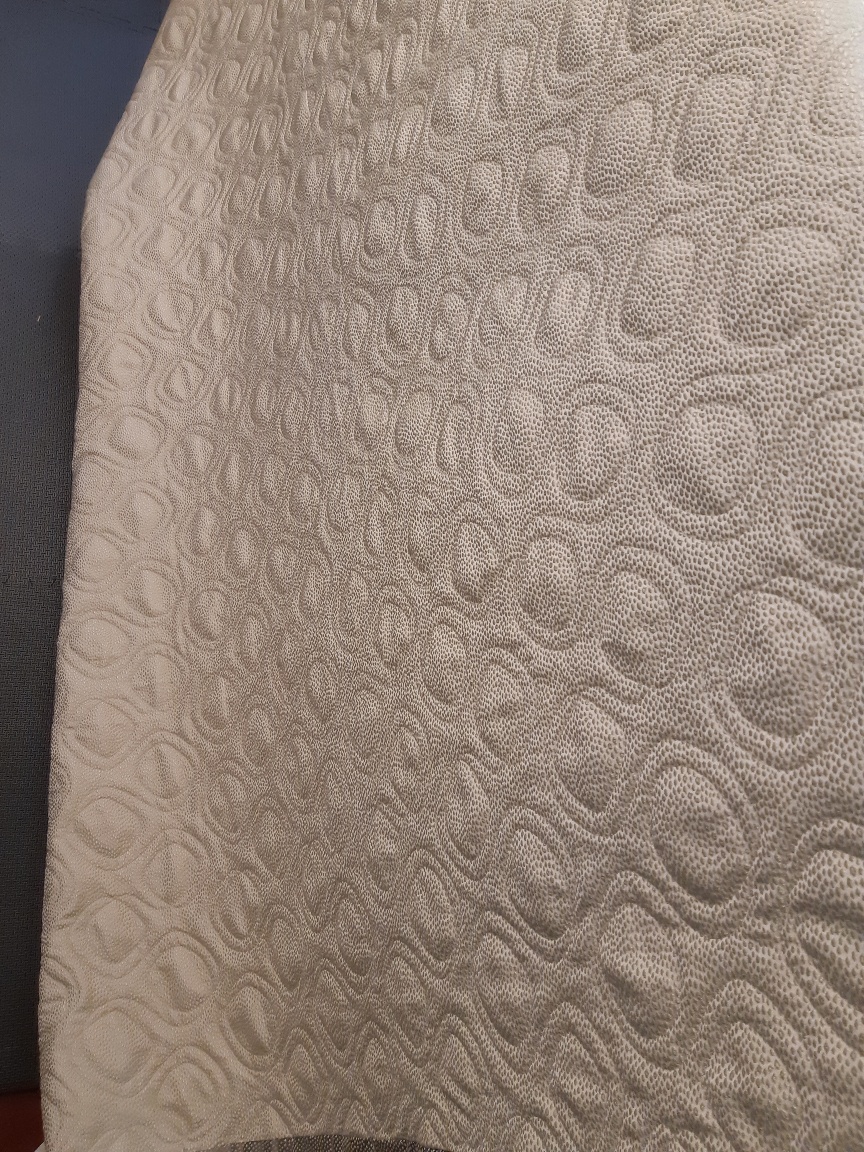 The quote came back at over $4500.00. Well, to make a long story short she decided to see if she could replicate the look herself. She found some upholstery fabric she loved on sale and put the "top" together however she needed to get it quilted. A friend of hers recommended me and so between the two of us, we figured out how to get this done.
I was a little nervous as I had never quilted on upholstery fabric before however I needn't have worried. The results were stunning! It looks so nice I may have to try one for myself. She just emailed me to say she loves it and I am glad because it was king-sized and heavy and upholstery fabric frays a lot more than quilting cotton so like I said I was a little worried.
The fabric was beautiful by itself however once it was quilted with a simple design the fabric just seemed to shimmer and shine in certain lights.
So, she was able to get a custom king-sized bed covering for a fraction of the cost of $4500.00.
Hmm, maybe I should start doing custom quilts like that?! Then again maybe not.
Getting some Therapy Time In
Of course, with everything else going on, one has to get some quilting therapy in too. I completed the Flower Basket quilt top (some people call it a flimsy). I am so glad I decided to just forego the hand applique in the flower baskets! Yes, it would have looked lovely, but the quilt would still be unmade and unloved too. So, for me, the decision to forge ahead without the applique was the best and right decision. I did have to change the borders up because the border print I was using was not the same widths as what was used in the pattern. Thank goodness for innovation!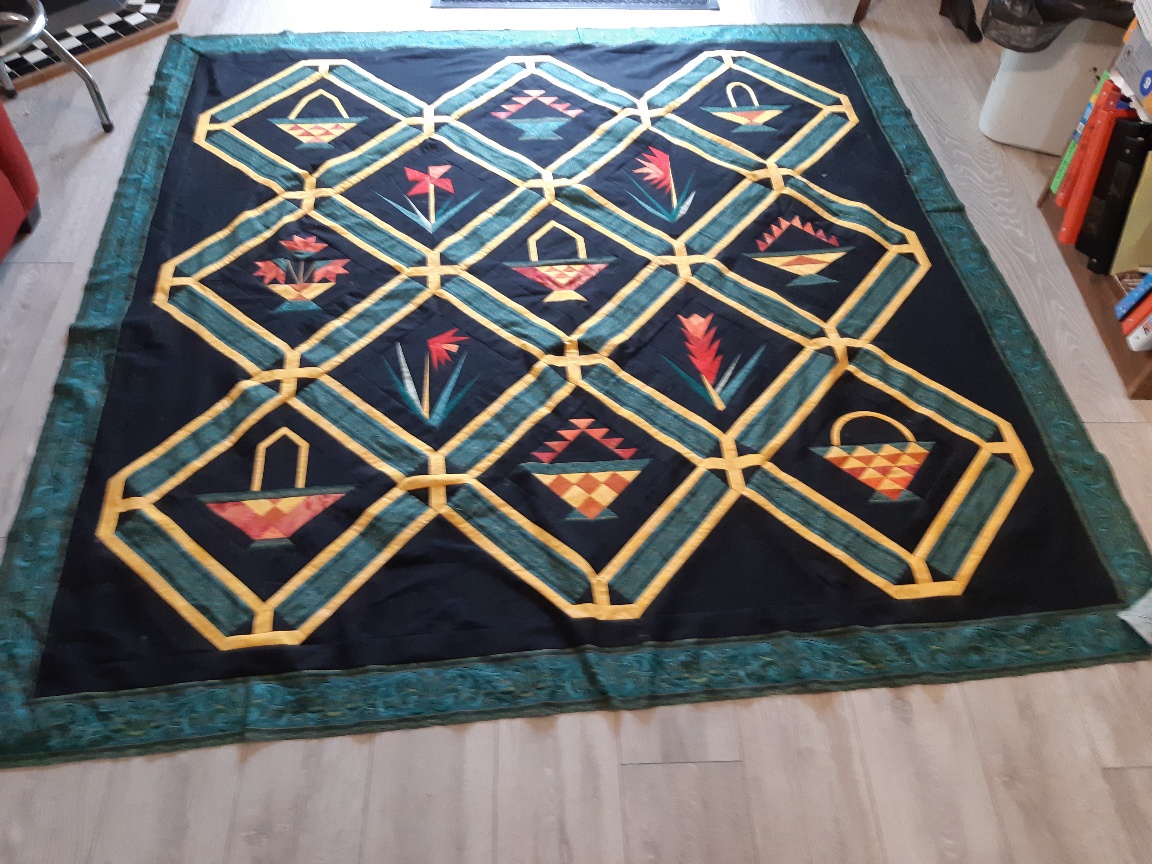 Square in a Square
The other "project" I have been working on is making square in a square samples. Years ago I bought a book and ruler at a quilt show in Portland Oregon called Square in a Square. I purchased this because I really didn't like making that block and every time I did it always turned out wonky. Consequently, I simply avoided any quilt designs that used that block.
So, there the book and ruler sat for literally years. With everyone at home, a lot of people are taking the time to shift gears and put on online courses or webinars where before they would do this at quilt shows. Quilt shows, of course, aren't happening right now, so the "smart" innovative (there's that word again) people are quickly shifting gears and diving into the online realm. Well, so is the author of the square in a square system. I have been watching her free webinars and finally pulled out the book and ruler and have been doing up some practise blocks. They are PERFECT! Every time I might add without a wonky bit to be seen! Should have tried this years ago!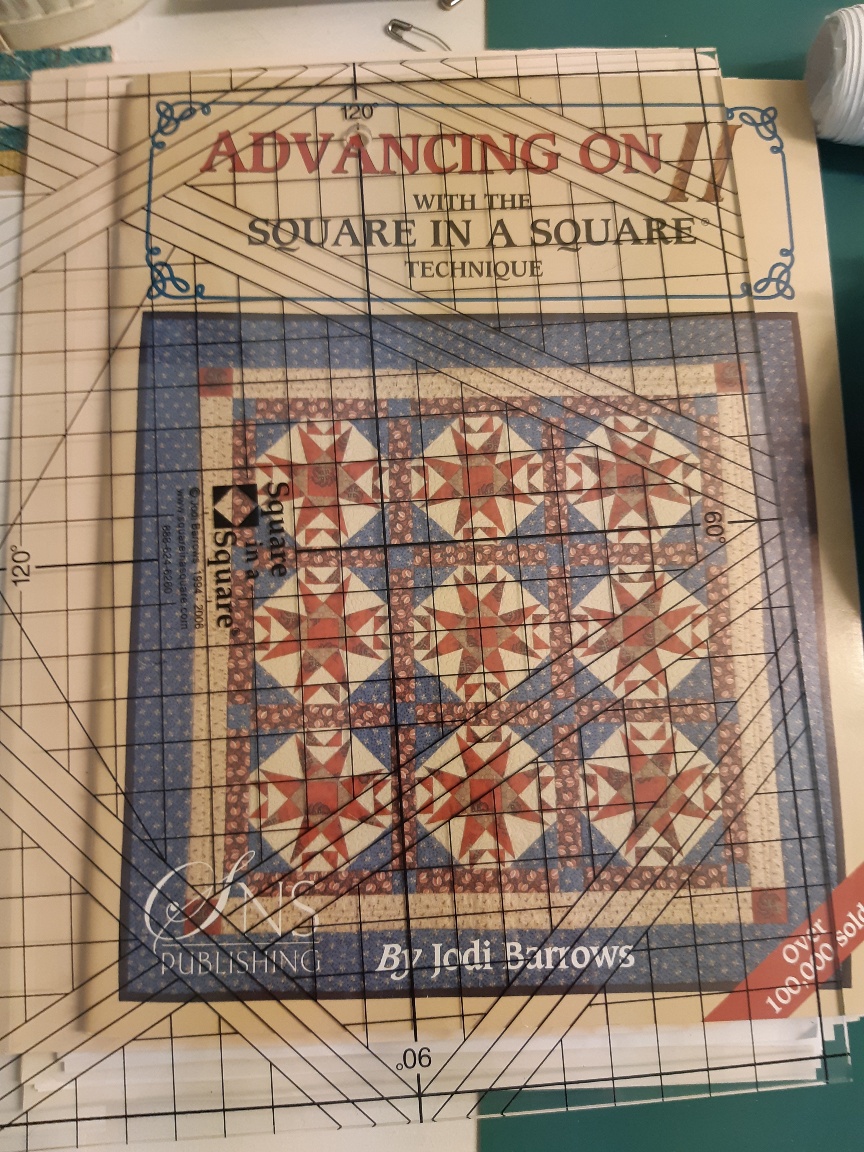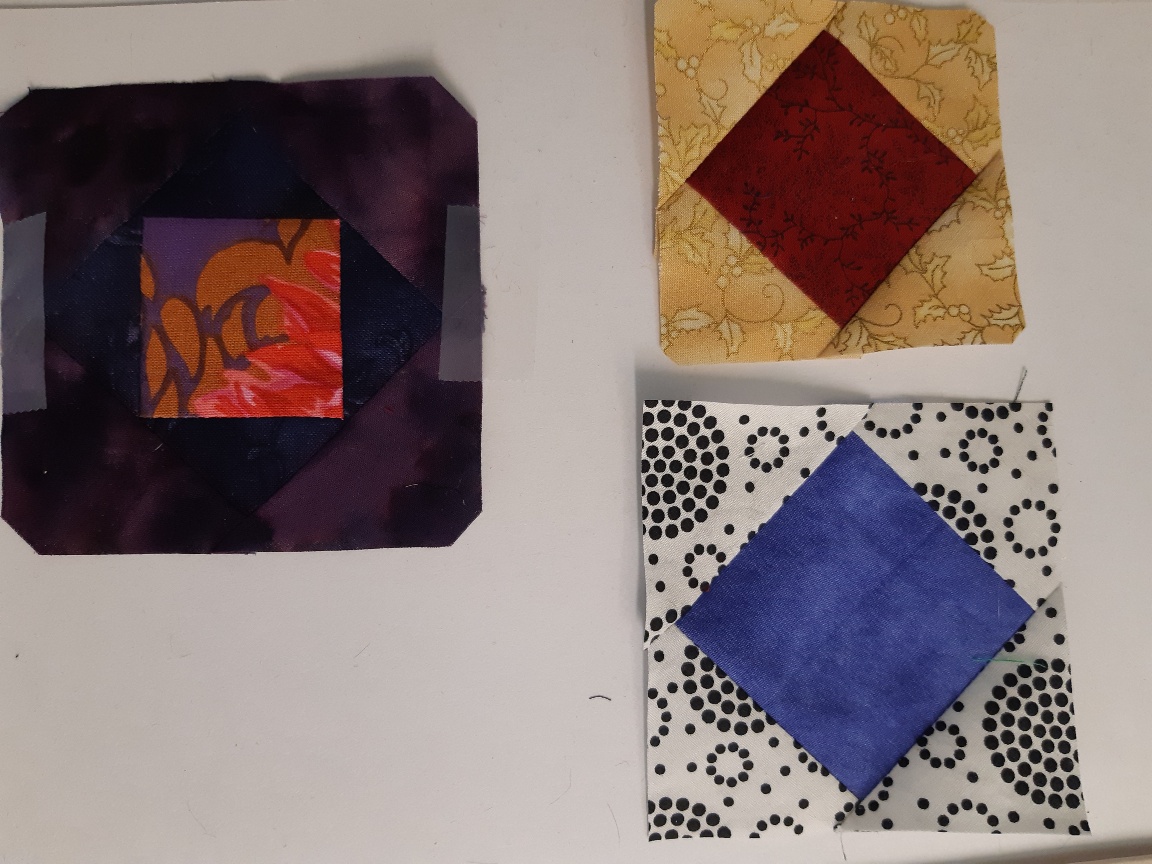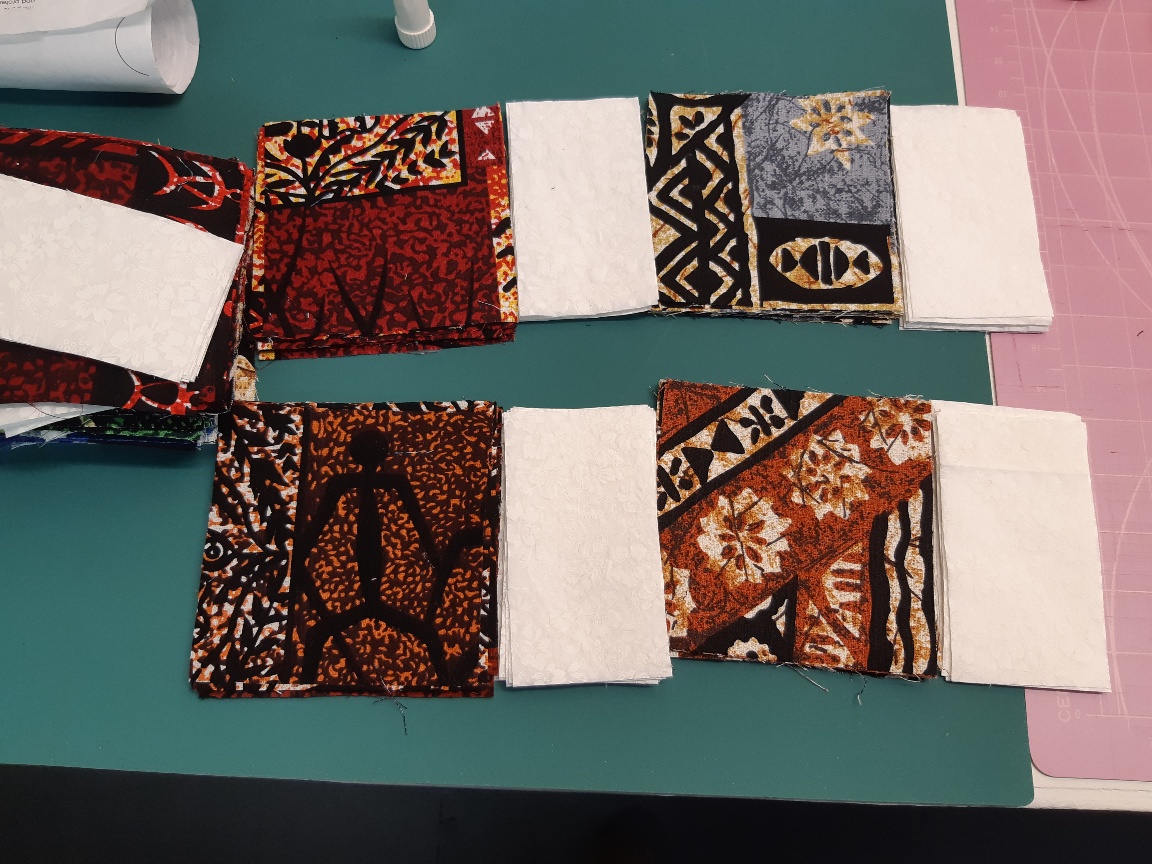 Next Project
In keeping with the theme of finishing off my quilting kits that I once purchased I have pulled out a relatively easy next project. It is a quilting kit I purchased 5 years ago in Hawaii using bark cloth and quilting cotton. I am looking forward to working on this one.
That will just leave me two quilt kits left! Both of those ones will be a lot more challenging, one of which is another paper piecing project. We'll see how that all goes together.
So, how have you been spending your time indoors? What kinds of projects have you been tackling?  Quilting, Gardening, or some other DIY project?
Let me know in the comments I would love to hear from you.