What a beautiful summer we have been having here in Victoria BC. It has been a busy one too.
Have you ever thought about the term Time vs Money. I have been thinking a lot about this lately. We had a woman come into the store where I work the other day and she wanted a new sewing machine which would use a ruler foot (a foot that allows one to use long arm rulers on a domestic sewing machine). She had a sewing machine but it would not take a ruler foot and someone told her that machine quilting with rulers on a domestic sewing machine would solve all of her problems.
Here was the difficult part though. She didn't want to spend the money to get a decent machine to make free motion quilting easy. She wanted the cheapest machine she could get. Unfortunately the more inexpensive machines, while being able to get a foot to fit, didn't have the throat space she would need to enable the ruler to fit. The other factor is the more inexpensive machines may not have the best stitch quality for free motion quilting either.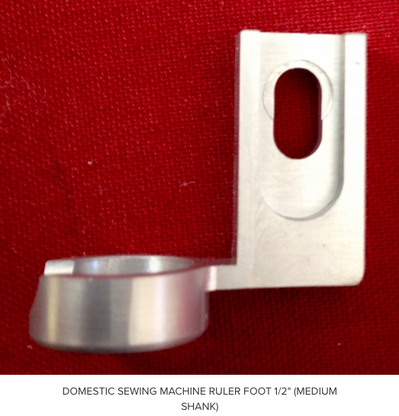 When I started asking questions like how much experience she had with free motion and since she was just doing baby quilts why not just use a walking foot I got some interesting answers. First she had tried taking free motion classes and she said she just wasn't any good (none of us are when we first start out). Second she said she was now using stencils and marking the quilts and then using a walking foot but she keeps going off the line and so it wasn't perfect.
So why did she want to try rulers?! She was told by a group of woman that all her problems would be solved by using rulers on her domestic machine.
First it takes TIME to be good at anything and you are not going to be perfect when you first start. When you were little did you just hop on a bike and start riding? No you more than likely had training wheels and had a few falls first.
Second it does take MONEY to be good at something. You need to invest in the right tools. A good machine helps, you don't need to spend thousands but a Walmart special may not cut it either. You also need to invest in some good classes whether they are in person or on-line. The rulers themselves are not cheap.
As I started asking this woman questions to find out how best I could serve her I learned that she wanted perfection without spending either the time or money.
Well, for one there is no such thing as perfection unless maybe you invest $30,000 in a computerized longarm and even then you have to spend time to learn how to use it.
For another, well, you just have to put in the time and practice and be willing with the knowledge that the quilting is hand guided and it is never going to be perfect.
So, sadly I was not able to help this woman as she was after something that simply did not exist. She wanted perfect machine quilting without spending the time to get better and without spending the money on the tools that would help her.
This incident has led me to think about things in my own life. Time vs Money how many times have we all come up against something similar?
Let me know in the comments if you have come up against this time vs money thing.
Click here to receive the free Inspiration Journal pattern and sign up for the newsletter