I have a client quilt on the frame and although I know what design I will be quilting on this one as it is just an all over design it got me thinking about how I come up with different quilting designs. My fall back design for all over is a leaf pattern, leaves are easy to do and if they are not perfect that's OK because nature doesn't make perfect leaves either. It's also the first quilting design I learned how to do.
When it comes to all over designs I try to take hints from the quilt itself, for instance one of my client's quilts was green and red and had nature and leaves in a lot of the fabrics. The quilt design was simple so the meandering leaf design I came up with seemed to fit the bill.
In another quilt I did, a Bonnie Hunter mystery there was so much going on with the design and the many different fabrics I just kept with a simple all over echoed flower design. With that quilt I used a thinner thread (Superior Threads So Fine 50) as I just wanted the texture to show as the quilt was so busy as it was. When I was quilting that design I was thinking oh no not sure I like this but when I got that quilt off of the frame I really, really liked it. The quilt is now on the bed in the spare room.
As I have mentioned in previous posts I don't do much pantograph quilting as I prefer to quilt from the front of the machine but I did piece and quilt a quilt for a client that was a cat quilt. This quilt called out for paws and I did do that as a pantograph as it would have been to hard to do this totally free hand.
There are other quilts though that just call out for more custom designs like a design in the blocks and another in the sashing and border. I find deciding on what to quilt in these particular quilts more difficult as the choices are so vast. I try to take some clues from the fabrics used but I will admit sometimes I have to drape those types of quilts over my stairwell and stare at them for awhile well I go looking for inspiration.
The next quilt on my list to quilt is a Judy Niemeyer Bali Wedding Quilt. I started the top a few years ago and worked on it while going through cancer treatment. I finished the top two years ago and it has been sitting in my "to be quilted" pile ever since. Time to get this one finished I think so I have been sketching out ideas on what to quilt where. I will post pictures of that process in a future post. Meanwhile here is a picture of the pattern. I bought the extra papers for this one and made my top queen size.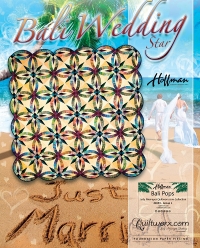 My latest favourite quilting quote
I'd rather be stitchin' than in the kitchen!